Lessons from the Felt
by David Apostolico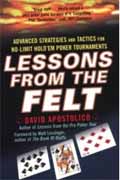 This is the next step after Apostolico's Lesson's From the Pro Poker Tour. Here he takes those lessons and turns them into action. He shows you how to apply the advanced techniques to an array of no limit hold 'em tournaments. This book is designed to help you win in every level of the arena. Provided is in depth analysis of real-life hands that the author has encountered. You can learn how to make the best decision possible regardless of your cards, or the circumstances. This book is designed to help you improve your skill, your odds, and your enjoyment.

The Rules of Poker: Essentials for Every Game
by Lou Krieger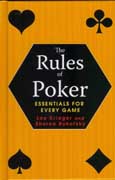 This book provides comprehensive rules for all the major poker games, making it an ultimate poker argument settler. Many rules are annotated with examples and interpretation notes so that nothing is lost in translation. The book is fully indexed so it is any easy reference is the casino, or where ever you may be playing.