More Book Reviews
Best Selling Poker Books of 2014
How did the new books compare to the old classics? Well, we will let the data speak for itself. Take a look at the list of the best selling poker books of 2014.
Deal Me In and Eat Professional Poker Players Alive Reviewed
There isn't a clear path by which people become professional poker players. There aren't any good courses at the local vo-tech for a person to study. The road to becoming a poker pro is inevitably difficult, circuitous, and filled with setbacks. Deal Me In is a book describing the course by which twenty top poker players became professionals.
Poker Winners Are Different
There is a big difference between what's typical human behavior and what is called for to play poker at a high level. There aren't a lot of people for whom maximizing their expectation in poker games comes naturally. Poker Winners Are Different by Alan Schoonmaker examines this conundrum.

Annie Duke: How I Raised, Folded, Bluffed, Flirted, Cursed, and Won Millions
by Annie Duke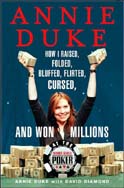 The most recognized female name and face in professional poker, Annie Duke earned her fame by first supporting her family with her poker earnings then by winning a gold bracelet and championship title at the prestigious World Series of Poker and eventually earning a $2 million purse by defeating some of the best poker players in the world at a special tournament televised on ESPN. Annie talks about growing up, learning to compete, marriage and family. Separate chapters take the reader through the World Series event where she earned her bracelet. The bones of the book provide a broad picture of what it takes to overcome all the angst and anxiety of a dysfunctional background and succeed in an unconventional career.
Annie Duke is a very successful high-limit cash game and tournament poker player who has been catapulted into the limelight due to her appeal and successes in televised poker tournaments. What series

Nick Christenson is widely regarded as one of the best gambling book reviewers publishing today. He is a contributor for Poker Player magazine, and has published in Full-Tilt and Gambling Times. He is also the editor of the very funny 'Casino Death Watch,' which chronicles the comings and goings of casinos in Las Vegas. He is an avid poker and blackjack player. Nick's website is www.jetcafe.org/~npc/ of events guided her to become a professional poker player? We can find out in her self-titled autobiography, Annie Duke.
Duke interweaves three narratives in her book. First, the book is the story of her life up until the time of publication. Second, the book includes her thoughts about the situations she faced while winning her first World Series of Poker bracelet in the 2004 $2000 Omaha High-Low event, as well as a commentary on her path to winning ESPN's televised 2004 Tournament of Champions. Occasionally interspersed between these two story lines are a few asides, labeled "TIP", which provide the reader with some strategic poker advice.
Dealing with the tips first, in aggregate the book doesn't provide all that much in terms of poker strategy. I believe the lessons Duke provides are generally good, but they're well known to even the most casual reader of poker books. Typically they serve as punctuation to some sort of life lesson, although occasionally they seem to run almost exactly contrary to the text that leads into them.
In the tournament commentary section, Duke describes what's going on inside her head as she makes her way through the World Series event that she won. From a psychological standpoint it's interesting to find out something about her motivations and strategic considerations. From a strategic standpoint I found these sections to be disappointing. For one thing, rarely is there enough information to really understand the context in which she made the decisions that she did. As a consequence it's hard to learn very much from her experience. Another thing that bothered me is that many of these descriptions contain simple poker mistakes, such as a miscalculation on the number of outs. Admittedly, it isn't always easy to perform these calculations, especially in Omaha8, but I find it difficult to believe that a player of Duke's caliber would make this sorts of mistakes.
My opinion is that the autobiographical sections are the best parts of this book. Duke's recollections about her life are detailed and amazingly candid. She really opens up about her feelings and many of the troubles she faced as she navigated the twists and turns that have made up the road that is her life. I have to say, though, that the overwhelming feeling I'm left with is one of bewilderment. I think Duke would agree that a lot of the situations she faced in her life could reasonably be called bizarre. However, there's very little in the way of explanation or resolution for what lies behind choices she has made. After finishing the book I think I know quite a bit more about the details of her life, but if anything I am less clear on the things that motivate her.
There are other aspects of the book that don't make a lot of sense to me. In some places Duke is rather critical of specific people in a way that seems gratuitous. In some instances these people are named and sometimes they remain anonymous in the book, although everyone deeply involved in poker knows exactly to whom Duke is referring. Calling these people out in the manner that she did doesn't seem to advance either her interests or her narrative, so I have to wonder why this is done. In one case she states that she's rather upset at a certain person who treated her inappropriately. Frankly, I think that she has good cause to feel the way she does, but I'm not sure why one would spend so much time on this issue and not name her detractor. In another case, she doesn't name but alludes to a poker "fish" from whom her brother has profited in such a specific fashion that she may as well have used his name. I really don't understand her choices in these and other cases.
The fans of Annie Duke the poker player who are eager to learn more about the background of this remarkable person will probably learn a great deal from this book, although I won't guarantee that they'll gain in understanding. I would expect that only the most novice poker players would increase their strategic understanding of the game from her descriptions of the hands she played, and from the tips she provides in the text. Someone who is interested in the biographical details of Duke's life will find this book worthwhile. I expect that readers without this specific interest will probably find their time and money better spent on other sources.