More Book Reviews
Deal Me In and Eat Professional Poker Players Alive Reviewed
There isn't a clear path by which people become professional poker players. There aren't any good courses at the local vo-tech for a person to study. The road to becoming a poker pro is inevitably difficult, circuitous, and filled with setbacks. Deal Me In is a book describing the course by which twenty top poker players became professionals.
Poker Winners Are Different
There is a big difference between what's typical human behavior and what is called for to play poker at a high level. There aren't a lot of people for whom maximizing their expectation in poker games comes naturally. Poker Winners Are Different by Alan Schoonmaker examines this conundrum.
What Factors Help Pro and College Football Teams Cover The Spread? These Books Explain
The nagging question of which factors impact whether or not a team might cover the spread is asked each year by beginners and old pros alike. Not everyone will agree about the answer, but Andy Iskoe's two annuals, the Pro Football Statistical Pattern Report and the companion work, College Football Statistical Pattern Report should help clarify it for everyone.

Best Poker Books of 2014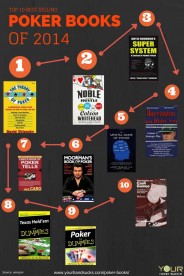 When 2014 recently came to an end so did a fantastic year of poker. A lot of great tournaments were played, a bunch of new players were introduced and a lot of good poker books were released.
But

There are occasions when we here at ReadyBetGo want to bring you interesting facts about the gambling industry When something catches our eye, we will publish it for your enjoyment. how did the new books compare to the old classics? Well, we will let the data speak for itself and therefore we have put together a list of the best selling poker books of 2014.
If you want to read more about poker books check out our post about video poker books or take a look at the 25 best poker books accordingly to YourHandSucks.
Here are our comments on the list.
Moorman's book is the only one released in 2014 and it was released in November. Guess the old classics are still very popular.

The Dummies series makes it onto the list with two entries. So apparently The Dummies brand is strong even when it comes down to poker.

Harrington has two books on the list and that cements his role as one of the best poker books authors of all time.