Deal Me In by Stephen John and Marvin Karlins
There isn't a clear path by which people become professional poker players. There aren't any good courses at the local vo-tech for a person

Nick Christenson is widely regarded as one of the best gambling book reviewers publishing today. He is a contributor for Poker Player magazine, and has published in Full-Tilt and Gambling Times. He is also the editor of the very funny 'Casino Death Watch,' which chronicles the comings and goings of casinos in Las Vegas. He is an avid poker and blackjack player. Nick's website is www.jetcafe.org/~npc/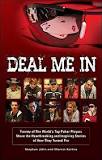 Deal Me In by Phil Helmuth to study. The road to becoming a poker pro is inevitably difficult, circuitous, and filled with setbacks. Deal Me In is a book describing the course by which twenty top poker players became professionals.
A large number of the poker players here are those that anyone would expect authors of such a book would try to include. Phil Hellmuth, Daniel Negreanu, Doyle Brunson, Johnny Chan, Phil Ivey, and other superstars of the poker world are featured. Others, less well known, and therefore less exhaustively chronicled in other sources, include Chad Brown, Tom Dwan, Peter Eastgate, and Annette Obrestad. As the title suggests, these narratives focus on the part of their lives where the featured players transitioned from non-pro to poker professional.
For my own part, I don't need to read a mini-biography on Annie Duke or Doyle Brunson. I've read more profiles of these players than I could count, not to mention the book-length treatments of these players' lives. However, not everyone is as widely read as I, and there's certainly still an audience interested in these celebrities. Predictably, the parts I liked best were the interviews with the players that I knew less well, such as Dwan, Obrestad, Brown, and Chau Giang.
Each of the vignettes contained in Deal Me In measures about a dozen pages. The inclusion of plenty of photographs along with the generous formatting make these stories even shorter than one might first expect. Consequently, this makes for a quick, light read, which will probably appeal to a great number of prospective readers. At the same time, it means that there's not room for a great deal of depth on any one subject.
Some of the stories are truly remarkable. Two of the players featured, Scotty Nguyen and Chau Giang, tell about their amazing, and sometimes truly harrowing, struggles to arrive here from Vietnam and then make a life for themselves in a distant land. Most others, though, are noteworthy for their, well, banality. Over half of the subjects of the book were born in the United States, and the vast majority of these into some semblance of a middle-class setting. Sure, most of them suffered some setbacks along the way, usually in terms of a depleted bankroll, but aside from having to step down in limits, take on another job, or raise some capital, it's remarkable to me how much their financial stories resemble those of non-poker playing entrepreneurs.
The point where a person crosses the threshold from amateur to professional poker player is not always represented by a bright line. It is an interesting transition, and I was hoping to find some insight into this process from all these stories. Many people aspire to be professional poker players and come up to this line, but can't break through. What's special about these twenty players? I was hoping Deal Me In would provide some insight into this question. Unfortunately, the focus of the book seems to be on the more superficial details rather than any deeper themes. There's really not much here I wouldn't get in a feature article in one of the free poker magazines they give out in the local card rooms. I was hoping for something more, especially since there are several books on the market that largely cover the same ground.
The stories here are light and fun, and I'm sure there's a considerable audience for this sort of thing. However, I found them familiar, repetitive, and unremarkable. I've heard most of these stories before, and in too few of the others was there anything I felt that revealed a deeper insight. There's nothing objectionable to this book, I just wasn't impressed by it. For those looking for some light biographies who aren't already deeply familiar with this particular cast of characters, it's entirely serviceable, but for those who keep up on the personalities of poker, I doubt there's much here that's new.
Eat Professional Poker Players Alive! by Frank Wiese
The development of a poker player from neophyte to long-term winner follows a treacherous path. In Eat Professional Poker Players Alive!, Frank Wiese attempts to guide players along this course. For no-limit Texas hold 'em, Wiese provides three progressively more complex strategies, which he labels "Fish", "Barracuda", and "Shark". He also provides strategies for a variety of other poker games, including deuce to seven triple draw, Omaha, razz, and seven card stud. Wiese also provides information on some of his favorite poker rooms in the United States, poker magazines and web sites, online poker rooms, and popular poker tournament tours.
Needless to say, the book is quite broad in scope. Even though Eat Professional Poker Players Alive! weighs in at almost 300 pages, only the first 130 or so cover no-limit hold 'em, and only about 220 cover any form of poker strategy. For no-limit hold 'em, Wiese advocates a strategy he calls "medium ball". This strategy appears to involve making minimum raises pre-flop, although his examples don't always follow this advice. Even after reading this book I honestly don't know what the proper bet size should be for subsequent streets, except that he seems to advocate a check and call approach with hands of mediocre strength in order to keep pots relatively small.
The chapters on other games are necessarily sketchy. There's not much room for nuance when ten pages is devoted to a game. Of these chapters I thought Wiese's deuce to seven triple draw strategy was the most reasonable. Given the space constraints, I think his introduction to the game isn't too bad. On the other hand, his Omaha chapter, which appears to cover no-limit and pot limit Omaha high and Omaha high/low of indeterminate structure, isn't very good at all. I think his starting hand advice in Omaha high is way off base. And, if he thinks flopping an unspecified two pair in any form of the game constitutes a good hand, I suspect he's in for a rude surprise. Wiese admits he's not a good seven card stud (high or high/low split) player, so he has others contribute to those chapters. I'm forced to wonder why strategies for games outside of his expertise would be included in the book at all.
As if the scope of the coverage weren't adequate evidence, the book lacks focus. As one example, chapter sixteen of Eat Professional Poker Players Alive! is devoted to recounting the final table of Jerry Yang's 2007 World Series of Poker main event victory. It's also worth noting that Yang contributed the Foreword to the book. I'm sure there is a great deal of poker wisdom to be gleaned from how the final table was played, but Wiese's chapter is a chronicle of hands played rather than an evaluation of the play itself. It's not much different than what I expect one could find at any of several poker news sites, and I don't have an explanation for why it was included in this book.
The last several chapters veer from strategy into advice on online card rooms as well as a very abbreviated guide to a couple of poker rooms and tournament tours. I have to say that this appears as filler material. Instead of writing one book that covers a little strategy and a haphazard travel guide, I would have preferred that Wiese do a complete job on just one task or the other. Further, if it were strategy he chose to tackle, I think he would have been well advised to focus on just one game. If he can't fill a book with strategy on one game, I have to wonder why an author would feel compelled to write a book in the first place.
I'd also be remiss if I didn't point out one part of the book that I found especially disturbing. At the end of his chapter covering the World Series of Poker, he includes a bunch of information on the tax consequences faced by each of the players at the 2008 main event final table. This struck a chord with me, so I did a little research. The reason that it seemed so familiar is that it was lifted almost verbatim and without any attribution from Russ Fox's "Taxable Talk" Internet blog.
While I should point out that Russ is a friend and a co-author, my outrage at uncovering plagiarism isn't any greater because of my familiarity with the victim, although that factor certainly contributed to my ability to recognize this crime. Plagiarism in any form is simply inexcusable, and even if the rest of the book had been good enough for me to recommend, which it wasn't, this by itself would have been sufficient reason for me to encourage prospective readers to not purchase this book.
Overall, I believe Eat Professional Poker Players Alive! is a mess. Moreover, parts of it were lifted without permission from other sources. I have to encourage prospective readers to actively avoid this boo