More Book Reviews
Best Selling Poker Books of 2014
How did the new books compare to the old classics? Well, we will let the data speak for itself. Take a look at the list of the best selling poker books of 2014.
Deal Me In and Eat Professional Poker Players Alive Reviewed
There isn't a clear path by which people become professional poker players. There aren't any good courses at the local vo-tech for a person to study. The road to becoming a poker pro is inevitably difficult, circuitous, and filled with setbacks. Deal Me In is a book describing the course by which twenty top poker players became professionals.
Poker Winners Are Different
There is a big difference between what's typical human behavior and what is called for to play poker at a high level. There aren't a lot of people for whom maximizing their expectation in poker games comes naturally. Poker Winners Are Different by Alan Schoonmaker examines this conundrum.

Bad Beats and Lucky Draws
by Phil Hellmuth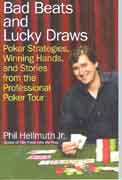 Once the exclusive game of Las Vegas high-rollers and serious gambling men, poker is now wildly popular in living rooms across America. A nine-time winner of the WSOP bracelet, Phil Hellmuth, Jr., has been a poker insider for over the last 18 years. Over the course of his celebrated career, he has played, beat, and been astounded and foiled by a striking array of hands. Building on his bestseller, Play Like the Pros, he now reveals the secrets of making tough decisions, audacious bluffs, and incredible calls-based on the bold moves of his renowned peers and rivals.

Phil Hellmuth's Official Site
The official site of one of poker's superstars, Phil Hellmuth, includes a bio, news, articles, schedules of upcoming tournament entries, and a catalog of Phil's poker gear. You can even ask Phil a question about anything, including poker.
Whether you love him or stand back with bewilderment when he reacts to a bad beat on television during a major poker tournament, Phil Hellmuth is tough to forget. Not that he isn't aware of his image.

Howard Schwartz, the "librarian for gamblers," is the marketing director for Gambler's Book Club in Las Vegas, a position he has held since 1979. Author of hundreds of articles on gambling, his weekly book reviews appear in numerous publications throughout the gaming industry. Howard's website is www.gamblersbook.com
Known as the Bad Boy of Poker, he sometimes comments about trying to reinvent himself into a kinder and gentler Phil. Bad or good, he and his products are popular with poker fans.
His first book,
Play Poker Like the Pros
, sold like crazy and his newest effort,
Bad Beats and Lucky Draws
(233 pages, paperbound, $14.95) should do ever better, now that that the popularity of the game has accelerated beyond anyone's wildest dreams.
Subtitled Poker Strategies, Winning Hands and Stories from the Professional Tour, this well-priced, entertaining and informative work re-creates some of Hellmuth's greatest triumphs and worst "how could this happen to me" scenarios. Illustrated and indexed (a smart move for all poker books which reference dozens of names and places so you can find them easily), the book is packed with what might be called episodes -- or confrontations -- major hands, memorable showdowns and lots of profiles and analysis which Hellmuth has been able to store away in what has to be a virtual photographic mind. (Either that or he's taking notes like crazy away from the tables).
Hellmuth talks about superstition, extra sensory perception (or that sixth sense which often separates winners from losers); profiling top players (describing Dan Harrington as "Primarily known for playing really tight in the no-limit hold'em side games..."and John Bonetti "...as a cunning leader with a warrior's heart"); detailing key turning points in major tournaments; key world class olds (also known as key laydowns) and unusual habits of some world class players ("I am scared of no one at no-limit hold'em, but I have a healthy respect for 'Drunk Lane (Flack). When Layne is drinking in this game, he is dead-on with his reads, and has no fear whatsoever..."
He's faced them all‹the aggressive Phil Ivey; the unbelievable Gus Hansen; the class and grace of T.J. Cloutier; the sometimes testy Amir Vahedi. He describes most players as falling into three categories, with third group "the most dangerous." "They can sit patiently for hours, almost never playing a hand, while letting other players push them around. A half hour later, they have shifted gears, seemingly raising every pot, and the next thing you know, you're on your way to the rail, never knowing what quite hit you." He includes himself in this elite grouping.
"They get the money, one way of another, and that's how we keep score in poker," Hellmuth says.
It's been 15 years (1989) since Hellmuth took home the World Series of Poker title. He was a kid then -- he's smarter now -- still a noise-maker, perhaps over-emotional in a game where it's best to hide them. A new generation of wanna-be professionals players should enjoy this book -- hopefully they'll learn something while experiencing one heck of a roller-coaster ride involving high stakes action through the mind of a consistent winner.