Inside Poker: The Good, The Bad and The Ugly
by Vince Burgio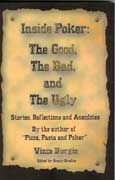 Vince Burgio is one of poker's most popular champions, not only because he is a great competitor but also because he represents the poker community with dignity and decorum. In this book, a compilation of his many columns, he often comments on the current crop of poker pros who look and act foolish for the camera and who, in his opinion, give the game a negative feeling. While that's the focus of many chapters, others cover a wide path of poker information. He talks about the people he's met, the games he's played, the fun side of poker that makes it his favorite pastime (next to playing with his grandchildren). Each segment appears to be light reading but the true poker fan will find nuggets of great interest between the lines.

Phil Gordon's Little Blue Book
by Phil Gordon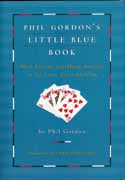 Valuable sections include Cash Games AND Tournament Play; Sit and Gos; Satellites and Supersatellites. Nicely illustrated with many lessons, examples and analysis, it's a balanced, smooth-reading textbook, some of which is based on the author's experience. This balance of common sense, strategies, ploys and an honest appraisal of what was going through his mind when he made his moves adds strength to this powerful, positive pack of lessons. One unique approach is to 'improve at poker is not by finding answers. It is by finding questions,' says champion Chris Ferguson in the foreward. This companion book to Gordon's Little Green Book does just that.