52 Greatest Moments World Series of Poker
by Mark Rogers

This coffee table book makes a great poker gift, autograph book and display item for discussion. Whether you are looking to preserve exciting historical moments or learn the details of the World Series of Poker, this book provides both in an entertaining and controversial format.

Phil Gordon's Little Green Book
by Phil Gordon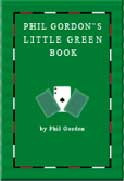 Gordon knows the game as well as anyone. His ability to teach, suggest, and offer examples is some of the best you'll ever read. His book is both a tutorial and an informational gap-filler as it takes the novice through the basics with and understanding that there is need to rationalize and emphasize key points.