Big Deal: One Year as a Professional Poker Player
by Anthony Holden

The best-selling account of a year spent in the tough world of the professional poker player. Poker is not gambling but is like chess, a paradigm of life at its most intense, a gladiatorial contest that brings out the best as well as the worst in people. Its heroes and eccentrics stalk the pages of this remarkable book, along with all the hair-raising, nail-biting excitement of the games themselves.

Bad Beats and Lucky Draws
by Phil Hellmuth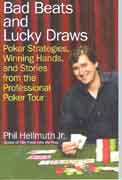 Once the exclusive game of Las Vegas high-rollers and serious gambling men, poker is now wildly popular in living rooms across America. A nine-time winner of the WSOP bracelet, Phil Hellmuth, Jr., has been a poker insider for over the last 18 years. Over the course of his celebrated career, he has played, beat, and been astounded and foiled by a striking array of hands. Building on his bestseller, Play Like the Pros, he now reveals the secrets of making tough decisions, audacious bluffs, and incredible calls-based on the bold moves of his renowned peers and rivals.