Limit Hold'em: Winning Short-Handed Strategies
by Terry Borer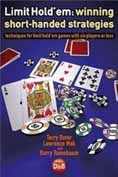 Limit hold'em games featuring 9 or 10 players sometimes frustrate skilled players because they don't present many opportunities to exploit weak play and because good hands often don't stand up. Short-handed limit hold'em games feature a maximum of six players and are becoming increasingly popular because: you get to play a lot more hands, you have more chances to exploit opponents' weaknesses and you get more opportunities to use all of your poker skills.But short-handed play differs from full ring play. Here, three expert short-handed players analyze the skills needed to succeed in short-handed play, discussing such topics as:Attacking and defending blinds, watching and reading the opposition, being aware of your own image, playing with controlled aggression.
Poker History
The history of poker reaches back many centuries if you include games similar to poker but with different names. Poker as we know and play it today is a product of 19th century America. The following articles and bibliographies will point interested readers to an introduction to the history of poker and to the many books that have poker as their subjects.
Bibliography of Poker Books by Date
Rich McComas and other dedicated poker fans have compiled the best list of poker books on the web. Here is the list ordered by date of publication.
Bibliography of Poker Books by Author
If you ever needed to see almost every book published about poker, here is your source. Compiled by Rich McComas, this extensive bibliography is organized by author last name.
The Spread of Gambling and Poker
Poker became part of American culture as the game spread north and west of New Orleans. From the riverboats, to the streets of San Francisco, to the boom towns of the Old West, the game was a popular success.
The Origins and History of Poker
Poker is one of the world's most popular card games. The question of who invented this great game may never be fully answered, but there are some tantalizing clues.