More Book Reviews
Best Selling Poker Books of 2014
How did the new books compare to the old classics? Well, we will let the data speak for itself. Take a look at the list of the best selling poker books of 2014.
Deal Me In and Eat Professional Poker Players Alive Reviewed
There isn't a clear path by which people become professional poker players. There aren't any good courses at the local vo-tech for a person to study. The road to becoming a poker pro is inevitably difficult, circuitous, and filled with setbacks. Deal Me In is a book describing the course by which twenty top poker players became professionals.
Poker Winners Are Different
There is a big difference between what's typical human behavior and what is called for to play poker at a high level. There aren't a lot of people for whom maximizing their expectation in poker games comes naturally. Poker Winners Are Different by Alan Schoonmaker examines this conundrum.

All In: The (Almost) Entirely True Story of the World Series of Poker
by Jonathon Grotenstein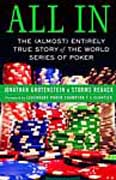 Jonathan Grotenstein and co-author Storms Reback, have done a remarkable job of research in writing 'All In: The Entirely True Story of the World Series of Poker,' using hundreds of resources, interviews and re-creations of hands and situations to take care of everything a poker buff might want to know about the most famous poker tournament in the world. Well-indexed, this is the story about how the game became popular, and of the people who helped and are helping promote it.

Bill Rini's Poker Blog
Bill Rini writes an excellent blog that chronicles his poker experiences and much more. He also writes product reviews which include books, software and even sunglasses. For an entertaining read, check out Bill's blog.
Tournament poker is huge these days, and no event has more cache, more prestige, or more history than the World Series of Poker. Since 1970, the entire world poker calendar has revolved around the

Nick Christenson is widely regarded as one of the best gambling book reviewers publishing today. He is a contributor for Poker Player magazine, and has published in Full-Tilt and Gambling Times. He is also the editor of the very funny 'Casino Death Watch,' which chronicles the comings and goings of casinos in Las Vegas. He is an avid poker and blackjack player. Nick's website is www.jetcafe.org/~npc/ WSOP. Each year it has been bigger and more spectacular than the year before. Every main event winner immediately becomes a celebrity, transcending the game of poker. New legends are made each year at this event on a routine basis. The history of the World Series of Poker deserves to be chronicled. Jonathan Grotenstein and Storms Reback do so in their book, All In: The (Almost) Entirely True Story of the World Series of Poker.
In recent years, the details of the World Series of Poker have been meticulously recorded for posterity. As we move back in time, records become increasingly scarce, memories fail, and too many of the people involved have dropped out of sight or, unfortunately, passed on. Consequently, it's difficult to be certain about the events that happened at the early WSOP events. The authors have done their best to verify as much information as possible, but there are necessarily discrepancies in what happened, and the the way things really happened may not have occurred exactly as they are remembered. It is because of this that the "Almost" in the book title. Nonetheless, even if these events did not actually occur exactly as they are transcribed here, they deserve to be remembered, and Grotenstein and Reback do a creditable job of getting it as right as possible. They carefully walk a fine line between printing the apocryphal and omitting colorful events. Because they are honest about the veracity of their source material, I think this turns out well.
There are a few places where the accounts in All In diverge slightly from other written sources or my own recollections, and occasionally the authors get some poker detail wrong. As far as I can tell they recount their stories as accurately as the audience could reasonably expect and more accurately than most books of this type. I give Grotenstein and Reback a great deal of credit for careful research. The book is primarily written to entertain the reader, but I expect most poker purists will be satisfied with this result as well.
The writing is skillful and the narrative is thoughtfully laid out. This isn't a staid history text. The poker stories flow gracefully and avoid devolving into the sort of repetitive pattern that occurs so often in works of this type. A lot of careful consideration went into this book, and it enhances the reader's experience. While I wouldn't quite rate this book as one of the elite examples of poker literature, it is extremely good, and the authors deserve kudos for the effort they expended to make All In an engrossing read.
The book is by no means a strategy guide, but there are enough hand examples so that a discerning reader may manage to learn a few things from this text. I don't see a lot of evidence that the authors themselves are especially skilled players, but looking at the key hands over the course of the tournament's history, I'd have to say that the overall skill level of the participants has been improving over time. Even though a much larger percentage of today's players are amateurs compared to years past, it seems to me that many more of the key hands in the early years were true blunders compared to what we commonly see today. Another reader may draw a different conclusion, but enough poker hands are discussed in this book to provide ample data for these sorts of debates.
The World Series of Poker has been covered before in various books, but never before quite like this. In The Biggest Game in Town, Alvarez writes better prose but covers only a brief moment in WSOP history. The same goes for James McManus in Positively Fifth Street. Championship Table displays similar breadth, but All In is more comprehensive and provides much more background about the situation surrounding these events, essentially superseding that previous work.
Grotenstein and Reback have done a very good job researching and relating the history of this great poker tournament in an accurate and entertaining manner. Consequently, I recommend this book to just about every poker fan. If you're Doyle Brunson, someone who has lived these events himself, maybe this book won't be quite as gripping, but I expect almost every poker aficionado will greatly enjoy this book.