More Book Reviews
Best Selling Poker Books of 2014
How did the new books compare to the old classics? Well, we will let the data speak for itself. Take a look at the list of the best selling poker books of 2014.
Deal Me In and Eat Professional Poker Players Alive Reviewed
There isn't a clear path by which people become professional poker players. There aren't any good courses at the local vo-tech for a person to study. The road to becoming a poker pro is inevitably difficult, circuitous, and filled with setbacks. Deal Me In is a book describing the course by which twenty top poker players became professionals.
Poker Winners Are Different
There is a big difference between what's typical human behavior and what is called for to play poker at a high level. There aren't a lot of people for whom maximizing their expectation in poker games comes naturally. Poker Winners Are Different by Alan Schoonmaker examines this conundrum.

Harrington on Hold'em, Volume 1: Strategic Play
by Dan Harrington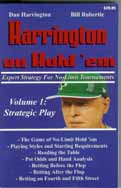 Harrington on Hold 'em, Volume 1 is part of a two-book set on playing no-limit hold 'em tournaments written by one of the true masters of the game. If you've ever watched television coverage of the big poker tournaments, you've seen Dan Harrington. Dan, who's always a familiar face at the final table, won the 1995 World Series of Poker championship event and finished fourth in last year's record 2,500+ field.
Not only did Dan Harrington win the main event at the World Series of Poker (in 1995), but he also had a final table finish in the same event in 1987 and finished in the top four in two consecutive

Nick Christenson is widely regarded as one of the best gambling book reviewers publishing today. He is a contributor for Poker Player magazine, and has published in Full-Tilt and Gambling Times. He is also the editor of the very funny 'Casino Death Watch,' which chronicles the comings and goings of casinos in Las Vegas. He is an avid poker and blackjack player. Nick's website is www.jetcafe.org/~npc/ years (2003 and 2004) in the two largest fields to ever enter a World Series event. "Action Dan", an ironic nickname for someone known for his solid play, collaborates with renowned backgammon champion and author, Bill Robertie, to present his thoughts on playing no-limit tournament hold'em. Harrington has so much to say on the subject that this book represents the first of an expected two volume set.
Volume 1 of Harrington on Hold'em covers most of the topics that a no-limit hold'em tournament player would want to know, focusing on the play in earlier parts of the tournament. More advanced topics, special situations, and how proper strategy changes late in a tournament will be discussed in Volume 2. Still, weighing in at almost 400 pages, Volume 1 is a pretty substantial effort.
Harrington and Robertie start with some introductory material, but this is pretty brief. Harrington on Hold'em, Volume 1 is clearly aimed at readers with at least some no-limit hold'em tournament experience. Someone who hasn't played in these events before would probably be well advised to get their feet wet with another book before tackling this one.
With the introductory material out of the way, the authors then move on to some general theoretical advice. This includes an examination of common playing styles, tournament types, advice on getting a feel for one's table, and information on odds and hand analysis. This is all basic but necessary stuff, and it is presented here in a straightforward style. There's a lot of information here, although as with many Two Plus Two books the density of words per page isn't all that high. In any case, the writing style is straightforward and reasonably easy to digest.
The last two hundred pages cover the sort of material one would hope to find in a book like this. Here the authors examine the play of hands on each betting round. These sections are filled with examples where the reader is guided through a careful analysis of many real-life situations. Many poker authors have written books who know how to play hands, but Harrington clearly not only knows how to play them, but understands the reasons why a certain play is correct and can communicate this clearly to his audience. This seems to be a rare and valuable combination of gifts in the poker world.
There are some places where I would like to have had the authors explain some situations in a little more detail, but overall the analysis done in this book is remarkable. Harrington on Hold'em, Volume 1 affords an excellent opportunity for aspiring poker champions to get inside the head of someone who thinks deeply and carefully about the game. The examples provided in this book are excellent. Moreover, even though the book is aimed at tournament play, I believe that the analysis is general enough and valuable enough that most no-limit cash game players would strongly benefit from reading this book as well.
The bottom line is that I believe that overall this is the finest new poker book I've read in at least the last three years, and I've read a lot of poker books in that time span. The writing is clear, the analysis is well-reasoned, and the topics are thought provoking. I highly recommend this book to any intermediate or advanced no-limit hold'em players, whether they play tournaments or cash games, and I anxiously await the release of Volume 2.