More Book Reviews
Best Selling Poker Books of 2014
How did the new books compare to the old classics? Well, we will let the data speak for itself. Take a look at the list of the best selling poker books of 2014.
Deal Me In and Eat Professional Poker Players Alive Reviewed
There isn't a clear path by which people become professional poker players. There aren't any good courses at the local vo-tech for a person to study. The road to becoming a poker pro is inevitably difficult, circuitous, and filled with setbacks. Deal Me In is a book describing the course by which twenty top poker players became professionals.
Poker Winners Are Different
There is a big difference between what's typical human behavior and what is called for to play poker at a high level. There aren't a lot of people for whom maximizing their expectation in poker games comes naturally. Poker Winners Are Different by Alan Schoonmaker examines this conundrum.

$40 No-Limit Texas Hold'em
by Kim Greenblatt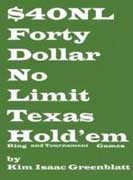 Learn or get refresher tips on how to play the $40 no-limit hold'em - ring or tournament - one of the hottest games played in casinos and card clubs. Low buy-ins lead to some interesting games and this book by example, shows you what you should do and what you shouldn't do. For less than the cost of a buy-in, this book demonstrates a $40 NL session, $40NL tournament, half a dozen thinking hand examples and advice as to how the $40 game differs from other no limit hold'em games.
It's extremely rare for one author to write and publish and release three books within the space of one year, but Kim Isaac Greenblatt has done just that, presenting material for two versions

Howard Schwartz, the "librarian for gamblers," is the marketing director for Gambler's Book Club in Las Vegas, a position he has held since 1979. Author of hundreds of articles on gambling, his weekly book reviews appear in numerous publications throughout the gaming industry. Howard's website is www.gamblersbook.com
of hold'em and one for pineapple. The three new titles are
$40 No-Limit Texas Hold'em: Ring and Tournament Games
(217 pages, paper bound, $20);
Practical Low and No Limit Texas Hold'em Ring Games
(158 pages, paper bound, $17.95) and
Crazy Pineapple 8-or-Better Poker
(137 pages, paper bound, $17.95).
The No-Limit text contains six major sections, including How to Handle Lady Luck When She Turns Against You; $40 NL Ring Game Mixed Aggression and $40 NL Sit and Go Single Table Tournament. This book is what you'd call "generic" in format, designed to get the point across with no frills. Large print, little to no mathematics and no displayed playing cards to break up the text (you'll see 8c as eight of clubs for example) and many examples of what the author calls Good or Bad play. Greenblatt analyzes his own mistakes while reflecting what opponents' hands are. Much of his advice is common sense and personal observation boiled down into concise nuggets. He's very honest about why he wrote the books—to raise money for Rett Syndrome, a difficult-to-diagnose developmental disorder that affects mostly young girls and for which there is no cure. He admits to having no illusions about being a world class player, and although he doesn't love the game, he's pretty good at it.
Practical Low and No-Limit Texas Hold'em Ring Games includes sections on binomial distribution on low-limit ring games; and Low $3/6 ring game examples. Here he cautions that he makes a meager income at these low-limit games and he is departing information about what works for him. He presents eight succinct rules that have seen him through both good and bad times at the tables. He offers most of his advice in the first 49 pages, and from there on he presents hands he's been in and the analysis of same. With large print and plenty of advice on how poker is just a game that, like life, will eventually end, he reminds players that they are in the game to make money more than to have fun.
The crazy pineapple book has super large print. It will certainly help the visually impaired. Among the eight chapters are those on Low and Middle Hands and some strategies.
He admits most readers will probably end up playing this version of poker in home games since it's not often spread in casinos or card clubs. He flat out admits his strategies are just his and they may differ from what other authors present but since they work for him, they might work for you.
In more than 25 years of reviewing books, including more than 100 on the subject of poker, I've never seen an approach like the one Greenblatt offers. It's an honest combination of self-taught information and knowledge both read and gained from experience. He's obviously not totally devoted to poker and cautions people to think twice before becoming totally serious and dedicated to the game.
Overall, Greenblatt can be commended for using poker for something other than fame and fortune. While his books may not become the same kind of best-sellers we see penned by famous names, they can add value to anyone looking for additional information about the game.