LONDON, England -- It's said that Tutankhamun's curse will fall on whoever dares to blaspheme his tomb, but this doesn't seem to have applied to the Bedfordshire based Jim Riley, who has found himself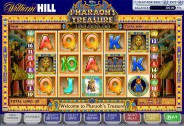 Pharaoh's Treasure Progressive Game Presented by William Hill surrounded by the Pharaoh's great treasure instead.
Jim has just landed a £95,771 jackpot on the Pharaoh's Treasure slot game on the gaming site vegas.williamhill.com and he believes the secret to his success is recent Feng Shui advice, which seems to have put him on a winning streak, culminating in landing the big jackpot on Monday.
Jim opened his online account when William Hill launched their sportsbook and casino website in 1998. His occasional £30 punt on the horses never brought him much luck, and although he had some small wins on the casino games, the big jackpots had always passed him by.
Until, it seems, one day in January, when a work colleague visited the house shared by Jim and his partner Jenny and pointed out the fatal Feng Shui "mistake" in their home ---- their toilet door was always open and all their wealth was going down the drain! The couple wisely took the advice, kept the bathroom door firmly shut and with immediate effect the 48-year-old grandfather hit his winning streak! It all started with winning £3,000 on the Roulette at William Hill Casino, followed by another 3 big wins on the slot games and a £1,200 jackpot from Lucky 88. All in all he has won nearly £20,000 prize money since January, until he scooped the massive £95,000 on Pharaoh's Treasure! It seems that the ancient Chinese wisdom has quashed the equally ancient Egyptian curse!
Speaking about his win, Jim, a self employed electrician said, "Jenny and my friends kept telling me it was just fluke, they didn't believe I could keep winning until I won the jackpot!" He already has some of the money earmarked for trips abroad and gifts for his family. "I will take my dad to Canada for a holiday and send my brother to New Zealand as he has always wanted to go there. I'm also going to spoil my grandchildren with presents, but my pension is only worth half of its value now, so I will save the rest for my retirement."
William Hill spokesperson Lili Huang said, "Mr Riley's story is unique and he clearly has his very own winning strategy. The progressive jackpot games, such as Pharaoh's Treasure and Gold Rush Showdown, are becoming more and more popular, and the pools available can grow really quickly to truly life changing amounts."
William Hill
7th floor Milton House
Charter Row
Sheffield SI 3F2
United Kingdom
Phone: +44 (0) 870-600-0479
Website: vegas.williamhill.com

Founded in 1934, William Hill is one of the best-known names in the gambling industry, providing gaming and betting services across three channels: online, on the high street and on the phone. Key facts about William Hill Online: -In October 2008, they established William Hill Online, the leading European online gaming and sports betting business -The online Sportsbook serves customers from over 175 countries, offering six languages and 11 currencies -In 2007, they took online bets from 169 countries for over 60,000 events (350,000 markets) and over 30 sports -William Hill gaming websites offer casino, poker, bingo and skill games