Find Loose Slots... Play Online!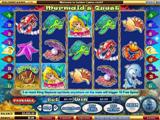 Roxy Palace has some of the loosest slots on the web. Their selection is huge and with less overhead, employee costs and taxes than your typical brick and mortar casino, they can afford to give back a bigger percentages of bets back to the customer. If you're looking for loose slots, play online!
A Huge Collection of Loose Slots!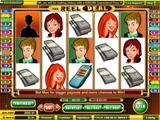 Online casino slots are loose. Why? Because with the lower overhead, no slot employees to pay, and lower taxes, they can afford to pay more back to their customers. Roxy Palace offers a huge range of casino slots for you to play for fun or for real money prizes. From easy to play 3-reel games and fruit slot machines, all the way through to popular video slots, progressives slots and brand new releases from Microgaming, every game provides a high level of quality.
LONDON, England -- Less than a month after their last big
progressive jackpot
winner, the Slotland jackpot has already been hit again. A player known as MARMOTLUV won $80,369 playing one of the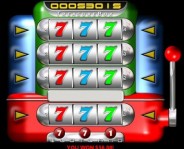 Slotland Progressive Slot Machine
online casino's newer online
slot machines
, the Slotris.
"I used to love playing Tetris as a kid so I've enjoyed playing Slotris ever since it was added to Slotland," said the excited winner. "I've won lots of smaller amounts over the years I've been playing at Slotland, but I never dreamed I'd actually win such a huge jackpot! The money is already in my bank account - but not for long!"
For years the Slotland jackpot was famous for being hit every six weeks or so, usually for between $100 and $150K. This isn't the first time that the wins have happened more frequently than that though. Last fall there were three six-figure jackpots in a row so this latest win could be the part of a continuing loose jackpot trend.
Of course there's no predicting when a progressive jackpot will be won. Every time a player places a bet that qualifies for the progressive jackpot (a max bet is required in most games) part of their wager goes to the jackpot pool. That pool keeps growing until someone wins.
Since all 16a games at Slotland contribute to the same jackpot pool, it can grow very quickly. After a young couple won a $169,923 jackpot playing the new Megaspin game in July, the jackpot was reset to $50,000 and quickly rose to the $80K prize just won.
Slotris, a Tetris-like online slot machine that launched last year, is two games in one, both inspired by the popular game of falling-blocks considered by some to be the best video game ever. The wheels on the Slotris online slot machine spin the familiar multi-coloured cubes and the same squares fall into place on the grid of the adjacent bonus game puzzle -- just like the video game that has mesmerized millions for decades.
There are two ways to win Slotris. There's a traditional three-wheel single payline
slot
line with spinning symbols - coloured blocks rather than cherries. When three matching symbols line up, the player wins. But the coloured boxes don't just spin on the slot machine wheels. Afterward, the same symbols fall into place in the grid beside the slot machine. Players can win this bonus game by guiding the blocks into place. Every solid-colour line multiplies the player's bet and ten lines wins the jackpot.
Slotland.com currently features thirteen unique slot machines and three video poker games. Four of the most popular online slot machines and two
video poker
games are also available on mobile phones and PDAs. All of Slotland's games give players the option of placing a maximum bet for a chance at the progressive jackpot.
In August Slotland will introduce another new slot machine. The Reel Riot is a single payline slot machine with a "Double Wild" bonus symbol and a special "hold" feature that strategic slots players will love.
The jackpot at Slotland is currently over $64,000. Meanwhile at Slotland's 3D casino, WinADay.com, the jackpot is over $130,000 and many players believe it is overdue for a win.
SLOTLAND is one of the biggest and most reputable online casinos on the net. Slotland definitely offers the most generous bonus program available! 100% Sign-up bonus up to $100. At Slotland, you will find great games with unique designs and great pay tables. Certified 98% payback will keep you happy. No Download; PC, AOL and WebTV compatible.