LONDON, England -- Winning $169K at Slotland.com means a young couple won't have to worry about getting by on one income once their baby arrives next spring. Slotland's newest slot machine produced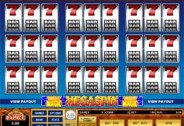 Megaspin Slot Machine their latest progressive jackpot winner when NYNYMAN won $169,923 playing the new Megaspin slot.
Having woken up with a sore throat, NYNYMAN had called in sick at work and had decided to take it easy that evening rather than go to his usual Bible study group. Although he has a few favourite games at Slotland.com, it was the new Megaspin that caught his attention as he sat down to play that night.
MegaSpin is a single-payline slot machine game with two identical three-reel sets. Players start by spinning the larger reels at the bottom. When they spin a winning combination, they continue playing for free on the upper Mega Reels. Both winnings are multiplied if they win on the Mega Reels as well.
"I had tried Megaspin once or twice before, and I really love the simple layout and strategy. I especially love that each winning spin lets you spin the Mega Reels for the chance to multiply your guaranteed win," said the winner.
Within five minutes NYNYMAN had almost doubled his $200 deposit and was feeling lucky. Less than an hour later, he'd won the big jackpot.
"When I spun 3 Wild Stars I started jumping out of my chair, thinking I'd hit the Big One. I was actually only halfway to winning the jackpot. Now I had to spin the Mega Reels and get 3 more stars. Impossible, I knew, but I was hoping for a nice multiplier on the Mega Reels, at least, to make that $150 win even larger."
"The first spin on the Mega Reels brought me a cherry, grapes and a star that gave me another chance to try to multiply my $150. Three more spins brought me three more losing combinations, but each time there was a star somewhere on the reels to buy me another chance."
"The next spin seemed to go in slow motion. I watched as the first reel stopped on a star and then the second reel stopped on another star. When third real also stopped on a star I realized I'd won $169,923 and I couldn't stop shaking."
His wife wasn't due home for at least another hour, so NYNYMAN did what any reasonable man who'd just won more money than he would make in one year would do and poured himself a drink! When his wife got home and saw her husband wasn't at the computer, she thought at first that he wasn't feeling well.
"I just smiled at her. She looked puzzled and then figured I must have had a good session at Slotland. When I showed her the screen with my winning spin, she looked like she needed a drink, just like I had.
But she said, "You don't want me drinking when I am carrying your baby, do you?"
The winners wife had found out earlier in the week that she was pregnant but was a little worried about having to stop working since they hadn't built up their savings as much as they'd wanted.
"Well, with this awesome win, our worries are over and the fun is now starting!" exclaimed the happy winner. "My wife will continue working until about her seventh month; after that, she can remain at home to raise our kids. With this win, that won't be a problem."
Slotland.com currently features thirteen unique slot machines and three video poker games. Four of the most popular online slot machines and two video poker games are also available on mobile phones and PDAs. All of Slotland's games give players the option of placing a maximum bet for a chance at the progressive jackpot.
SLOTLAND is one of the biggest and most reputable online casinos on the net. Slotland definitely offers the most generous bonus program available! 100% Sign-up bonus up to $100. At Slotland, you will find great games with unique designs and great pay tables. Certified 98% payback will keep you happy. No Download; PC, AOL and WebTV compatible.