LONDON, England -- "After an extremely lucky afternoon playing slot machines, one Slotland player is glad he trusted his gut feeling and not only continued to play but increased his bets.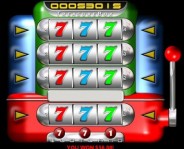 Slotland Progressive Slot Machine The player, known at the all slots and video poker site as SHLOMIC, was up $1900 after a $100 deposit because he trusted his gut feeling and increased his wagers at just the right time.
"I'll share a secret with you," said the winner. "After many hours of play I believe that most games work in streaks. Yes, I know, it doesn't make a lot of mathematical sense, but it works for me!"
The day of SHLOMIC's winning streak didn't start out so lucky. It was a boring day at work and nothing had been going well that morning so he'd locked himself in his office, logged on to Slotland.com, and started playing his favourite game, Treasure Box. He started with small bets and only increased his bets to the maximum after a streak of small wins.
"At first I found myself loosing most of my bets and so I slowly reduced my bets, down to $2," he explained. "But then something changed and it felt like I was entering a winning streak. So I tried my theory, and maxed my bet up to $8. And who would have believed it... it worked! Starting with a nice 777, that gave me $200 plus the treasure box (where I had about $600 at this stage). And then came the big win: triple 1, same colour, multiplied on all four lines giving me $1200!"
Treasure Box is a three-reel skill-based slot machine where players can increase their chances of winning by holding reels for the next spin just like video poker players hold their best cards. Treasure Box hasn't just been lucky for SHLOMIC. Since last March there have been six six-figure jackpot wins at Slotland.com and two were won playing Treasure Box. Most recently, a Canadian player won $195,083 (€126,910) on the ever popular game which, at the time, was the biggest jackpot ever won at Slotland.
Within days, SHLOMIC's winnings were in his bank account ready for some serious shopping. He also received $1000 for sharing his story in the site's member newsletter.
Slotland.com currently features thirteen unique slot machines and three video poker games. Four of the most popular online slot machines and two video poker games are also available on mobile phones and PDAs. All of Slotland's games give players the option of placing a maximum bet for a chance at the progressive jackpot which was recently hit for $169K and is currently over $57,000.
SLOTLAND is one of the biggest and most reputable online casinos on the net. Slotland definitely offers the most generous bonus program available! 100% Sign-up bonus up to $100. At Slotland, you will find great games with unique designs and great pay tables. Certified 98% payback will keep you happy. No Download; PC, AOL and WebTV compatible.