OTTINGHAM, UK, -- NETELLER.com, the e-wallet business of NEOVIA Financial Plc (LSE: NEO), the independent online payments business, announces that it will be a key sponsor for EuropeâEUR s largest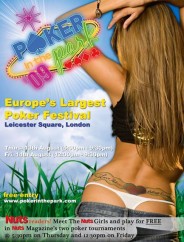 poker
festival, Poker in the Park, which is due to be held this week in London's Leicester Square. It will take place on Thursday 13th August at 5pm to 9pm and Friday 14th August from 12 noon to 9.30pm.
Billed as Europe's largest consumer poker show, this is the third anniversary of the popular two-day poker extravaganza. Kicking off at 17:00 on Thursday 13 August, those in attendance will be able to participate in free
tournaments
rolling every hour at the PKR Poker Dome, as well as meet celebrities, hear lectures from top poker pros, get massages from the lovely Xhilarate girls, and take advantage of free poker lessons and discounted poker merchandise. Pros already signed up to the lecture roster include Peter Eastgate, Neil Channing, Nik Persuad and Jamie Gold. Ex-actor turned poker pro Michael Greco and Irish football legend Tony Cascarino will also be at hand to give players of all levels expert guidance and game analysis.
NETELLER will have a significant presence on the ground at the event, as well as sponsoring the takeaway bags at this event. Poker players will be able to sign up instantly at the NETELLER stand, taking advantage of our VIP promotion which will allow those players to obtain 3 monthsâEUR VIP status and related benefits for free.
Michael Caselli, organiser, said âEURœWe are really pleased to have NETELLER as one of sponsors this year. Their online wallet has long been the best way for poker players to move money between sites whenever they want to.
Dan Starr, Executive Vice President of NEOVIA, commented they are proud to be sponsoring Poker in the Park. We have a long history of servicing the poker market and serving our VIPs well has always been a primary focus for NETELLER. Our VIP motto has been all-inâEUR demonstrates our commitment to our VIPs and we look forward to welcoming more of you during this special event in London, EuropeâEUR s Poker Capital.âEUR
About NEOVIA Financial
Trusted by consumers and merchants in over 160 countries to move and manage billions of dollars each year, NEOVIA Financial Plc (formerly NETELLER Plc) operates the world's leading independent online payments business. Through the NEOVIA Payment Suiteâ" , featuring NETELLERÂ , NETBANXÂ , Net+â" and 1-PAYâ" brands, NEOVIA Financial specialises in providing innovative and instant payment services where money transfer is difficult or risky due to identity, trust, currency exchange, or distance. Being independent has allowed the company to support thousands of retailers and merchants in many geographies and across multiple industries.
NEOVIA Financial Plc quoted on the London Stock ExchangeâEUR s AIM market, with a ticker symbol of NEO. Subsidiary company NETELLER (UK) Ltd is authorised by the Financial Services Authority (FSA) to operate as a regulated e-money issuer. For more information about NEOVIA Financial visit http://www.neovia.com.