Free Slot Tournaments Going on Now at Roxy Palace!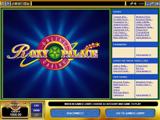 Roxy Palace has slot tournaments 24 hours a day with guaranteed freerolls and free buy-ins. There's a huge variety of types of tourneys to enjoy. Sign up now, join the fun and win some cash!
A Huge Collection of Loose Slots!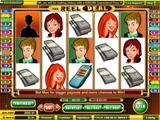 Online casino slots are loose. Why? Because with the lower overhead, no slot employees to pay, and lower taxes, they can afford to pay more back to their customers. Roxy Palace offers a huge range of casino slots for you to play for fun or for real money prizes. From easy to play 3-reel games and fruit slot machines, all the way through to popular video slots, progressives slots and brand new releases from Microgaming, every game provides a high level of quality.
SHEFFIELD, UK -- When 52-year-old Carol started researching her family history, she never would have expected to be the first in her entire family to win a massive amount of money. In fact, according


to her records, she is the very first big money winner in her entire four-hundred-year family history! And she owes it all to her recent luck on the Tarot Fortune slot game with William Hill Bingo, which has made her £46,881 richer.
With her husband working abroad half of the year, the Suffolk-based ex prison officer devotes most of her time to her family tree research, which now can be traced back to 16th century after many years of effort. In between hours of surfing historic information online, she finds it quite relaxing to play few spins on the slot machines on William Hill Bingo, ever since she opened an online account six months ago. Only playing a couple of times a week, she never expected she could win big, but now she has landed a payout out nearly £47k and has made family history as well!
As she travels abroad so often with her other half, Carol has no plans to splash out on a luxury holiday. "I don't know what I'm going to do with the money, I still can't believe I've won! I've looked through all my family records and none of my relatives ever had a big windfall like this! I might pay off couple of small debts and put the rest aside until I think of something, at the moment I'm just thinking of how I will break the news to my husband in Angola!"
William Hill spokesperson Lili Huang said, "The majority of our bingo customers find the slot games are exciting, particularly the progressive jackpot games, which often have life-changing prize pools, such as Clover Rollover, its prize pot just reached £1 million over weekend.
William Hill
7th floor Milton House
Charter Row
Sheffield SI 3F2
United Kingdom
Phone: +44 (0) 870-600-0479
Website: vegas.williamhill.com

Founded in 1934, William Hill is one of the best-known names in the gambling industry, providing gaming and betting services across three channels: online, on the high street and on the phone. Key facts about William Hill Online: -In October 2008, they established William Hill Online, the leading European online gaming and sports betting business -The online Sportsbook serves customers from over 175 countries, offering six languages and 11 currencies -In 2007, they took online bets from 169 countries for over 60,000 events (350,000 markets) and over 30 sports -William Hill gaming websites offer casino, poker, bingo and skill games