BILOXI, MI - On Wednesday, 283 players descended on the Beau Rivage Resort and Casino in Biloxi, Mississippi for Day 1 of the $10,000 buy-in Southern Poker Championship, a stop on the World Poker Tour.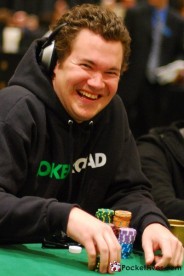 At the end of the only starting day in the Deep South, PocketFiver Hevad RaiNKhAN Khan sat with the fourth largest chip stack of 117,275. Two women lead the prestigious event, as Esther Taylor and Jacquelyn Scott pace the field in first and second, respectively. After the Beau Rivage kicked in an extra $24,000, the winner of the WPT Southern Poker Championship will take home an even $1 million. Let's check out the action from Day 1, which was tracked on PocketFivesLive.com, your source for the best WPT coverage of online poker players.
Attendance at the 2009 Southern Poker Championship was up by 8% in comparison to the tournament's last running. At the end of play on Wednesday, 175 entrants remain and the top 27 will finish in the money. One of only eight players with more than 100,000 chips is Hevad RaiNKhAN Khan. The fourth place stack finished sixth in the 2007 World Series of Poker (WSOP) Main Event for nearly $1 million. In 2008, he made another deep run and finished 280th out of 6,844 entrants. Khan, a member of Team PokerStars Pro, won the Sunday Warm-Up on his home site last March for $97,000 and took second in the event three months later for $58,000. Khan took third in the Second Chance in November for $26,000.
PocketFivesLive.com Tournament Reporter Jessica Welman, who has been on site at the Beau Rivage covering the team of PocketFivers in the running, commented, "Fresh off a win in the $2,000 event at the PokerStars Caribbean Adventure for $200,000, Khan ascended to the top of the chip counts right as Day 1 play was winding down. With so much momentum seeming to swing in his favor, he is someone to keep an eye on for the rest of this event."
Just behind Khan, and holding 110,700 chips, is Bryan badbeatninja Devonshire. The sixth place stack as play enters Day 2 on Thursday, Devonshire took second in a $1,500 buy-in Omaha High-Low Split Eight or Better tournament during the 2007 WSOP for $140,000, narrowly missing out on his first bracelet. His opponent heads-up in that event was none other than Alex Kravchenko. He also recorded a second place finish on the WPT circuit, taking home $271,000 at the World Poker Challenge last March; the Reno event was won by Lee Markholt. Among those at Devonshire's table on Day 1 were Vanessa Rousso and fellow PocketFiver Mohsin chicagocards1 Charani, who told PocketFivesLive.com officials, "I just want to order some popcorn, sit back, and watch Devo go."
Welman describes Devonshire's table image during the first day of play in Biloxi: "All day, the players at Devonshire's table kept telling me how he was just steamrolling everyone and they almost seemed scared to get involved in too many pots with him. To have that kind of table image in an event like this is an invaluable asset." He'll come armed with the sixth largest stack when play resumes.
Sitting in 10th place is Jamie thecronic420 Rosen, who amassed 90,775 chips during Day 1. A multiple winner of the $200 rebuy on PokerStars, Rosen most recently took down the challenging online poker tournament in November for $44,000. Rosen also made the final table of a $1,000 No Limit Hold'em with Rebuys event during the 2008 running of the WSOP, finishing in eighth place for $79,000; that event was won by PocketFiver Michael worldsgrtest Banducci. Like Khan, Rosen shot up the leader board late in the day in Biloxi.
On Rosen's ride through the first day of play, Welman explained, "I am never surprised to see him with a ton of chips at the end of Day 1. Rosen just has a knack for building up his stack very quickly. When I talked to him after play ended today, he said he picked up a ton of premium hands and felt like he was making really good decisions, so hopefully he'll be able to hold on to that big stack as play continues."
A host of PocketFivers are among the 175 survivors from Day 1. Play on Day 2 (Thursday) is scheduled to continue until just 36 remain, which may make for a marathon in Mississippi. The average stack is 48,000 and play will start with Level 6, with blinds of 300-600 and a 75 chip ante. Members of the online poker community still in the hunt include:
4. Hevad RaiNKhAN Khan, 117,275
6. Bryan badbeatninja Devonshire, 110,700
10. Jamie thecronic420 Rosen, 90,775
15. Keven Stamdogg Stammen, 87,200
17. Jason JP_OSU Potter, 85,350
38. Ben bfineman Fineman, 67,950
40. Randy Randers Haddox, 66,950
59. Mohsin chicagocards1 Charania, 56,875
60. Richard Lee Nickel Fohrenbach, 56,500
62. Darren darrenelias Elias, 55,050
65. Peter Nordberg Feldman, 53,825
66. Stewart Stuman123 Yancik, 53,600
76. Justin lockdownpokah Allen, 49,600
107. Anna pokerpixie Wroblewski, 37,875
118. Barry barryg1 Greenstein, 33,550
126. Devin TranquilChaos Porter, 30,300
131. Scott BigRiskky Clements, 28,600
140. Jordan iMsoLucky0 Morgan, 23,650
155. Jordan scarface_79 Smith, 20,375
161. Ryan gutshtallin Welch, 16,450
170. Stuart THEDONATOR Paterson, 10,750
The top 10 chip stacks over all are as follows:
1. Esther Taylor, 139,475
2. Jacquelyn Scott, 138,800
3. Bobort Suer, 118,125
4. Hevad Khan, 117,275
5. Gary Reed, 112,475
6. Bryan Devonshire, 110,700
7. Justin Dykes, 108,800
8. Woody Vanstratum, 100,425
9. Paula Halata, 93,175
10. Jamie Rosen, 90,775
Play resumes at 12:00 Noon Central Time on Thursday for Day 2. The winner of the 2009 WPT Southern Poker Championship will be crowned on Saturday. Stay tuned to PocketFivesLive.com, the best source for WPT coverage, for all of the action.
World Poker Tour (WPT)
5700 Wilshire Boulevard
Suite 350
Los Angeles, CA 90036
Phone: 323-330-9900
Fax: 323-330-9901
Website: www.worldpokertour.com

The World Poker Tour (WPT) can be seen in more than 116 countries and territories throughout the world. WPT consists of 17 high stakes poker tournaments filmed at glamorous locations throughout the world, including Bellagio in Las Vegas, Foxwoods Resort Casino in Mashantucket, CT, Aviation Club de France in Paris and the Borgata in Atlantic City. Each year the Tour culminates in the WPT World Championship in Las Vegas at Bellagio in April, drawing the leading pros and accomplished amateurs from around the world for an $8-12 million prize pool.