Shuffle Up and Deal
by Mike Sexton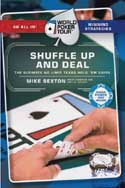 Mike Sexton will forever be known as the spokesman and commentator for the World Poker Tour. But he is also a consumate poker player and a vehement spokesman for the game. Now, in this book, he has taken his mission one step farther by putting together a text that will have the beginner learn the basics and move to the winning strategies of today's top players. He discusses what it takes to be a winner, no-limit hold'em strategies, tips for winning online tourneys, a guide to setting up a World Poker Tournament at home. He also includes profiles of the stars of the WPT and a hefty poker resource section. Comes with a computer CD.
Read a review of Shuffle Up and Deal

I'm All In
by Lyle Berman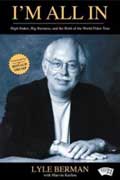 Berman, a one-of-a-kind combination of high-stakes poker maverick and entrepreneurial tycoon, recounts the amazing tale of how he revolutionized and revived the game of poker and transformed America's culture in the process. The author tells all about the World Poker Tour, and his life. Along the way he reveals the thirteen secrets of being a successful businessman, the six ways poker players self-destruct, the seven essential principles of winning at poker, and eight steps to a more satisfying life. Filled with both wit and wisdom and including an foreword by Donald Trump, this is an interesting look at the side of poker, gambling and big business seldom seen except by those on the inside.
Read a review of I'm All In

World Poker Tour Official Site
The World Poker Tour website has poker professional bios, tournament schedules and results, television schedules, a poker store, and a link to their online poker room. Fans and players can also register to be part of the WPT community.
The most popular poker tour and television series keeps getting stronger every day. With an aggressive marketing plan and good management, the WPT has created a global brand in a few short years. Now publicly-traded, the company continues to expand its tour stops, increase the prize money, and bring in more and more players.
The WPT also creates a lot of buzz by announcing events and opportunities for poker players around the world. Read about the latest happenings of the World Poker Tour here.