LOS ANGELES, California -- WPT Enterprises, Inc. and News Corporation's Fox Sports Network (FSN) announced today that they have officially extended the television broadcast license to include __World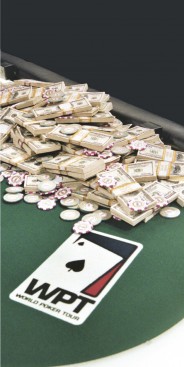 Poker Tour__® (WPT) Season VIII. The new season begins filming mid-2009 and is the latest __WPT__ programming scheduled for FSN.
"The World Poker Tour has a loyal and passionate fan base that has made the WPT one of the most popular programs on FSN," said FSN Executive Vice President George Greenberg. "We're thrilled to be airing Season 8 and look forward to another great year of WPT championship poker."
WPT, which films its tournaments in premier properties around North America, will create 26 one-hour episodes from Season VIII events. Under the broadcast license, FSN receives exclusive rights to air those episodes in the United States across its national sports cable network. The timeslot and schedule will be released at a later date.
FSN began airing WPT's inaugural Season I to high ratings last year, then followed with exclusive broadcast of all-new WPT Season VII episodes, which premiere every Sunday night. FSN also airs ClubWPT.com, atelevision series based on WPT's innovative subscription poker offering,www.ClubWPT.com.
"Fox Sports Net and News Corporation have far exceeded our partnership expectations and we are thrilled to continue growing our strategic relationship," said Steven Lipscomb, WPT Founder, President and CEO. "Airing our eighth season on the nation's prime sports network truly underscores the force behind the WPT brand and poker as a televised sport."
WPT programming currently airs alongside other sports programming such as MLB, NHL and NBA on the FSN network, which serves as the TV home to nearly two-thirds of all teams based in the United States. FSN's 16 owned-and-operated regional networks and its affiliated networks reach more than 80 million homes across the U.S. FSN is owned and operated by News Corporation.
World Poker Tour (WPT)
5700 Wilshire Boulevard
Suite 350
Los Angeles, CA 90036
Phone: 323-330-9900
Fax: 323-330-9901
Website: www.worldpokertour.com

The World Poker Tour (WPT) can be seen in more than 116 countries and territories throughout the world. WPT consists of 17 high stakes poker tournaments filmed at glamorous locations throughout the world, including Bellagio in Las Vegas, Foxwoods Resort Casino in Mashantucket, CT, Aviation Club de France in Paris and the Borgata in Atlantic City. Each year the Tour culminates in the WPT World Championship in Las Vegas at Bellagio in April, drawing the leading pros and accomplished amateurs from around the world for an $8-12 million prize pool.