SUNRISE, FL - Entering its fifth year of educating poker players throughout the country, the World Poker Tour Boot Camp has announced its 2009 schedule with some new and interesting stops along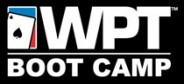 the way. WPT Boot Camp is breaking its own mold of teaching Boot Camps only at casino properties.
"Since the beginning, we've exclusively been in Las Vegas, Foxwoods, Atlantic City, Gulfport and other casino towns," explained WPT Boot Camp Founder, Ron Rubens. "We're now bringing our Boot Camps to our clients rather than making our clients come to us."
With the release of their 2009 schedule, potential boot campers will find Camps in New York, Chicago, San Jose, Dallas and Orlando, along with usual stops in casino towns like Las Vegas and Atlantic City. The Camps offer poker training sessions designed to teach players how to make money playing poker. Whether it's cash games or tournaments, live or on-line, WPT Boot Camp teaches a game plan for winning. They are taught in hands-on interactive workshops by professional poker players. These Pros are carefully selected for their success in poker, teaching ability, desire to share, and passion for the game.
"I get emails from past students daily who are making serious income from poker since taking their Boot Camps. A number of them have left their jobs and become professional poker players and are now living their dream," says Rubens.
WPT Boot Camp class sizes are strictly limited and are almost always sold out weeks to a month or so in advance. For information or to book a seat, call 866-WPT-BOOT (866-978-2668) or visit www.wptbootcamp.com.
World Poker Tour (WPT)
5700 Wilshire Boulevard
Suite 350
Los Angeles, CA 90036
Phone: 323-330-9900
Fax: 323-330-9901
Website: www.worldpokertour.com

The World Poker Tour (WPT) can be seen in more than 116 countries and territories throughout the world. WPT consists of 17 high stakes poker tournaments filmed at glamorous locations throughout the world, including Bellagio in Las Vegas, Foxwoods Resort Casino in Mashantucket, CT, Aviation Club de France in Paris and the Borgata in Atlantic City. Each year the Tour culminates in the WPT World Championship in Las Vegas at Bellagio in April, drawing the leading pros and accomplished amateurs from around the world for an $8-12 million prize pool.