More Book Reviews
Best Selling Poker Books of 2014
How did the new books compare to the old classics? Well, we will let the data speak for itself. Take a look at the list of the best selling poker books of 2014.
Deal Me In and Eat Professional Poker Players Alive Reviewed
There isn't a clear path by which people become professional poker players. There aren't any good courses at the local vo-tech for a person to study. The road to becoming a poker pro is inevitably difficult, circuitous, and filled with setbacks. Deal Me In is a book describing the course by which twenty top poker players became professionals.
Poker Winners Are Different
There is a big difference between what's typical human behavior and what is called for to play poker at a high level. There aren't a lot of people for whom maximizing their expectation in poker games comes naturally. Poker Winners Are Different by Alan Schoonmaker examines this conundrum.

Shuffle Up and Deal
by Mike Sexton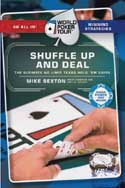 Mike Sexton will forever be known as the spokesman and commentator for the World Poker Tour. But he is also a consumate poker player and a vehement spokesman for the game. Now, in this book, he has taken his mission one step farther by putting together a text that will have the beginner learn the basics and move to the winning strategies of today's top players. He discusses what it takes to be a winner, no-limit hold'em strategies, tips for winning online tourneys, a guide to setting up a World Poker Tournament at home. He also includes profiles of the stars of the WPT and a hefty poker resource section. Comes with a computer CD.
These days Mike Sexton is best known as the voice of poker on broadcasts of the World Poker Tour. Before televised poker became popular, Sexton was still well known within poker circles as a professional

Nick Christenson is widely regarded as one of the best gambling book reviewers publishing today. He is a contributor for Poker Player magazine, and has published in Full-Tilt and Gambling Times. He is also the editor of the very funny 'Casino Death Watch,' which chronicles the comings and goings of casinos in Las Vegas. He is an avid poker and blackjack player. Nick's website is www.jetcafe.org/~npc/ player and columnist for Card Player magazine. His book, World Poker Tour: Shuffle Up and Deal, is a combination of advice to aspiring poker players and his insights about the World Poker Tour.
The book begins by easing the reader into the game of No Limit Texas Hold'em, the game of choice on the World Poker Tour. The first five chapters provide general encouragement, an introduction to the game, some advice about how to approach playing poker, some advice on how to play certain situations, and tournament specific advice.
The poker advice in this book is plainly geared toward those who have watched the WPT on television but have not played extensively. This is a fairly gentle introduction to the game, there exist other far more comprehensive strategy guides. At the same time, if the reader hasn't been watching poker on TV, some of Sexton's discussions may lack context. World Poker Tour: Shuffle Up and Deal is aimed at a fairly narrowly defined audience. There are, though, quite a few people that fit this demographic.
The last half of the book discusses some key hands that have appeared in World Poker Tour events over the last few seasons, includes brief biographies of famous tournament players, and provides some advice on playing poker tournaments online and hosting a home poker tournament.
The key hands and bios are likely to interest casual fans of the WPT. As with his general poker advice, I believe Sexton's suggestions regarding online poker are good, although far from comprehensive. The chapter on home tournaments provides some reasonably good suggestions for those who want to practice among friends. The limited information the author provides regarding the legality of poker disturbs me a little, however. I believe Sexton leaves the impression that some home poker games are legal in jurisdictions where they may not be. Those who wish to host a poker game would be well advised to research it's legality themselves.
The book also includes a glossary, examples of common poker slang, a good list of recommended books, and more information on WPT events. An introductory DVD, hosted by well-known actor and poker aficionado, Lou Diamond Phillips, is also provided.
World Poker Tour: Shuffle Up and Deal is squarely aimed at those who are fans of the show but have little live poker experience themselves. The book is far from comprehensive, but those who inhabit its target audience are likely to enjoy reading it. Experienced poker players or those who have read extensively on poker won't find much here that they haven't heard before. For beginning players, though, this is a respectable but very gentle primer for the game they see on TV.