More Book Reviews
Best Selling Poker Books of 2014
How did the new books compare to the old classics? Well, we will let the data speak for itself. Take a look at the list of the best selling poker books of 2014.
Deal Me In and Eat Professional Poker Players Alive Reviewed
There isn't a clear path by which people become professional poker players. There aren't any good courses at the local vo-tech for a person to study. The road to becoming a poker pro is inevitably difficult, circuitous, and filled with setbacks. Deal Me In is a book describing the course by which twenty top poker players became professionals.
Poker Winners Are Different
There is a big difference between what's typical human behavior and what is called for to play poker at a high level. There aren't a lot of people for whom maximizing their expectation in poker games comes naturally. Poker Winners Are Different by Alan Schoonmaker examines this conundrum.

Tournament Poker and The Art of War
by David Apostolico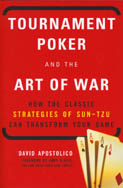 This is a book about understanding yourself as a player while understanding who you have to face in battle and learning to survive--a key element in no-limit poker tournament play. Risk, deception, exploiting a situation to your own benefit, waiting for the right time to eliminate an opponent, and adjusting your play accordingly are all factors to understand and master.
Testing you opponents, the power of keen observation, project a strong table image--these areas have been discussed in other books, but rarely with such keen examples, in short powerful bursts of advice.
About 2500 years ago, The Art of War was written as a treatise on military strategy. In recent years the book has come into favor among many in the business world as a general guide to contests of

Nick Christenson is widely regarded as one of the best gambling book reviewers publishing today. He is a contributor for Poker Player magazine, and has published in Full-Tilt and Gambling Times. He is also the editor of the very funny 'Casino Death Watch,' which chronicles the comings and goings of casinos in Las Vegas. He is an avid poker and blackjack player. Nick's website is www.jetcafe.org/~npc/ all sorts. In Tournament Poker and the Art of War, David Apostolico applies this classic text to playing in no-limit Texas hold'em poker tournaments.
Sun Tzu's The Art of War was not written as a nuts-and-bolts text book on military operations. By stating its lessons in very general terms, it attempts not to teach specifics but to cultivate a mind set in its audience. As with most classic works that have remained popular centuries after they were written, this book's general approach allows its principles to be adapted to situations far different than those with which the original author was familiar. It's not much of a reach to think that many of the principles in The Art of War could be adapted to poker. The value of such an exercise is going to depend on how well the author performs the adaptation.
Apostolico's book is organized into the same thirteen chapters as the Sun Tzu book, apparently using the Giles translation. For those who may wish to read the unabridged text in conjunction with Tournament Poker and the Art of War, the translation Apostolico uses is published by Dover Publications and is available online at several web sites free of charge. This is a well known translation, and while it may be slightly out of favor these days among scholars and purists, it is certainly adequate for these purposes.
In this work, Apostolico selects a short quote, typically only a sentence or two, and then makes some remarks adapting this quote to no-limit tournament poker. Sometimes the commentary consists of a single line, sometimes it runs for a couple of paragraphs. As one might expect, these comments run the gamut from insightful to reasonable to uninteresting to inappropriate. It is my opinion, though, that too many of Apostolico's remarks tend toward the lower end of the quality scale.
One of the benefits of a book like The Art of War is the general applicability of its statements. However, in applying this material to tournament poker, Apostolico needs to cast aside the timelessness of the original material and come up with specifics. I believe he fails to do so. Poker is all about both caution and aggression. Without specifics these are irreconcilable goals. Winning at poker is all about knowing the right situations in which to be cautious and when to be aggressive. Tournament Poker and the Art of War doesn't provide enough information for the reader to navigate this dichotomy. Consequently, I don't believe it succeeds as a book.
Poker players who are fans of The Art of War and are looking for affirmations that might inspire deeper introspection might be entertained by Tournament Poker and the Art of War. I believe that most readers looking for an application of timeless wisdom toward the game of poker will ultimately be disappointed by this book.