LOS ANGELES/LAS VEGAS -- In a perfect Vegas pairing, the Ultimate Blackjack Tour will bring its high-adrenaline, juiced up version of tournament blackjack to the trendsetting Palms Casino Resort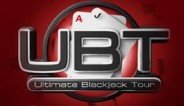 Ultimate Blackjack Tour to be filmed at Palms in 2007. as an official UBT tour stop April 20, 2007.
Strong ratings for its weekly CBS television program have shown that the world is ready for UBT's new take on a casino classic. Charter UBT tour stops allow everyone to experience the fast-paced fun of Elimination Blackjack™ in a tournament setting while playing for millions and the opportunity to reach superstardom on CBS. UBT's worldwide tour kicked off on September 23 at the Radisson Resort and Casino in Aruba and continues on to St. Kitts' Royal Beach Casino on October 28.
"Since its opening, the Palms has never been afraid to try new things, so they make a perfect partner to host the first Las Vegas charter tour stop for Ultimate Blackjack Tour," said UBT founder, expert gambler and 1994 WSOP Main Event winner Russ Hamilton. "Initial reaction to the UBT has been overwhelmingly positive and the Palms has a knack for recognizing the next big thing."
"We are thrilled to be a charter member of the Ultimate Blackjack Tour," said Palms Casino Resort owner George Maloof. "The series is filled with fun and excitement, which is what the Palms is all about. And the elimination format will bring our customers the hottest blackjack tournament around."
The high-velocity ten-episode first season of Ultimate Blackjack Tour, which debuted nationwide on CBS Saturday, September 16th to stellar ratings, features the world's top poker and blackjack pros in cut-throat action against the dealer, and one another. Chock full of forced eliminations, secret bets and smash mouth trash talking, the season also includes two special episodes: The Ladies of Blackjack, which showcases top female gamblers the likes of Annie Duke, Jennifer Tilly, Monica Reeves and Erica Schoenberg, and The Legends of Blackjack, which puts blackjack whizzes Stanford Wong, Anthony Curtis, Ken Einiger and others in exciting, head-to-head competition.
Additionally, through its web site, www.PlayUBT.com, Ultimate Blackjack Tour is doing something never been done before. UBT is currently holding free online tournaments where winners earn seats to the UBT season two final tables to be televised on CBS in 2007. The site also provides Elimination Blackjack™ playing tips and in-depth analysis of the televised events.
Palms Las Vegas
4321 West Flamingo Road
Las Vegas, NV 89103
Phone: 702-942-7777
Toll Free Phone: 866-942-7777
Email:
info@palms.com
Website: www.palms.com