NEW YORK -- With the
World Series of Poker
a distant memory, America is settling in for the Fall and shifting their attention to Elimination Blackjack(TM) - a new tournament game of skill that's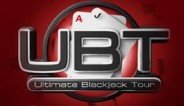 Ultimate Blackjack Tour to be filmed at Palms in 2007.
even more exciting and unpredictable than a round of
Texas Hold'em
.
Saturday September 16th at 2pm EST sees the television debut of the Ultimate Blackjack Tour, airing on CBS. This show promises to deliver a whole new blackjack experience as it combines the excitement of
blackjack
with the
strategies of poker
- all in the new game of Elimination Blackjack(TM). After watching the show, viewers can then play the game for free on Ultimatebet.net, a charter member of the Ultimate Blackjack Tour.
Chris Welch Managing Director of Loudvision, UltimateBet's marketing agency says: "This is a new and unique way of playing blackjack as players play against other players as well as the house. We are expecting a flood of new sign-ups as viewers watch the show and decide they want to experience this new game."
UltimateBet.net is a leading free-play online poker and blackjack site with over 2 million registered players. It is among the first to offer Elimination Blackjack online and expects a flood of new card-playing customers as Blackjack rapidly becomes the next hot card game.