A Huge Collection of Loose Slots!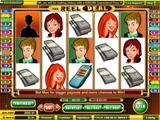 Online casino slots are loose. Why? Because with the lower overhead, no slot employees to pay, and lower taxes, they can afford to pay more back to their customers. Roxy Palace offers a huge range of casino slots for you to play for fun or for real money prizes. From easy to play 3-reel games and fruit slot machines, all the way through to popular video slots, progressives slots and brand new releases from Microgaming, every game provides a high level of quality.
Find Loose Slots... Play Online!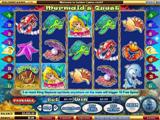 Roxy Palace has some of the loosest slots on the web. Their selection is huge and with less overhead, employee costs and taxes than your typical brick and mortar casino, they can afford to give back a bigger percentages of bets back to the customer. If you're looking for loose slots, play online!
MIAMI, Florida -- 7 Deuce Hold'em at UltimateBet launched to the resounding cries of "All of a sudden, I love poker again", and "F_ _k yeah, let's gamble!" Yesterday, online poker

players switched on to the leading poker rooms to discover the revamped online version of Texas Hold'em, known as 7 Deuce Hold'em, that guarantees all the action, more bluffs and side pots that players of the terrestrial 7-2 prop bet have come to expect - and they weren't disappointed.
To sit down at a 7 Deuce table, every player must contribute a side bet ranging from 1.5 times to double the Big Blind, depending upon whether it's a 4-6 or a 9 player No Limit Hold'em (NLHE) Table. The 7 Deuce side bet is paid out whenever a player wins a hand with 7-2 in his or her hole cards.
But if the adrenaline rush of winning with 7-2 isn't enough incentive to get in on the 7 Deuce action, be aware that it can now earn you more than bragging rights and a mega-fat side pot. UltimateBet has upped the ante yet again with the introduction of a 15-day $27,500 7 Deuce Leaderboard competition that has raised the bar on rivalries already at play at their online poker cash tables.
So, if you're on the hunt for loads more action and rewards from Texas Hold'em, the innovative 7 Deuce version of the game has the ultimate answer. With the 7 Deuce Leaderboard, every time you win a hand of Hold'em at a 7 Deuce table with 7-2 as your hole cards, you also earn a point. From August 2nd through August 16th, the top ten point earners each day will pocket a share of the Daily Leaderboard cash, with $500 per day allocated for low stakes players*, and a solid $1000 per day set aside for high stakes* players.
But the added value doesn't stop there. Keep the competitive edge rolling for the entire two-week 7 Deuce Leaderboard period, and you could have a real shot at the Final Leaderboard prizemoney. Players can qualify for a $5,000 Leaderboard Freeroll simply by being one of the top 100 cumulative points earners in either the Low Stakes or High Stakes categories.
Check out UltimateBet to experience what all the buzz is about and you'll quickly find out that the 7 Deuce Leaderboard Competitions have the extra sting guaranteed to get your heart racing. So, exercise your best bluff to take down a pot with the worst hand in poker, and you'll not only win the side pot with "the hammer", but you'll also be in the running to pocket a dash more cash that your bankroll will be grateful for. It's a no-brainer.
So, leave the standard playbook at the door, enter with the "no guts, no glory" attitude, and get ready to crush the table with the worst hand in poker. The challenge is definitely on.
* Low Stakes Category = $0.10/$0.25; $0.25/$0.50; $0.50/$1; $1/$2
* High Stakes Category = $2/$4; $3/$6; $5/$10; $10/$20 & up
The new 7 Deuce Hold'em, brought to you by UltimateBet.
Ultimate Bet is one of the most respected poker sites online and is endorsed by professionals like Annie Duke and Phil Hellmuth. The site offers Texas Hold'em, Omaha, Omaha 8/b, 7 Card Stud, 7 Card Stud 8/b, Crazy Pineapple, Crazy Pineapple 8/b, Triple Draw, Royal Hold'em. Table limits range from penny games up to $300-600.