Club USA Casino Blackjack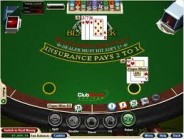 Club USA Casino Blackjack is the best bet for practicing blackjack basic strategy without stress and distractions. The game comes in both free play and real money modes and you can play up to three hands on your own table. The rules are favorable and with a house edge of only 0.71%, better than many casinos. The table minimum is $1 per hand and the maximum is $500.
A Huge Collection of Loose Slots!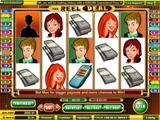 Online casino slots are loose. Why? Because with the lower overhead, no slot employees to pay, and lower taxes, they can afford to pay more back to their customers. Roxy Palace offers a huge range of casino slots for you to play for fun or for real money prizes. From easy to play 3-reel games and fruit slot machines, all the way through to popular video slots, progressives slots and brand new releases from Microgaming, every game provides a high level of quality.
MIAMI, Florida -- UltimateBet.com entered the arena of Ultimate Fighting Championship® (UFC®) sponsorship on a wave of success with the winning welterweight rising star Martin Kampmann sporting


the UltimateBet logo at last night's mixed martial arts televised event UFC® Fight Night Live™in Nashville, Tennessee.
Known widely amongst MMA fans as "The Hitman", Kampmann was seen brandishing the UltimateBet.com logo on the front and back of his shirt and cheekily placed on the rear of his shorts when he stepped into the cage to face off against Carlos "Natural Born Killer" Condit.
UltimateBet has never been shy about getting behind something that has a marquee value, and UFC®'s hard-hitting Octagon™ action ticks all the right boxes as one of the world's most exciting and massively popular sports entertainment attractions.
"We're mega excited to have our logo associated with Kampmann, a master of his craft and one of UFC's world class fighters," said an UltimateBet spokesperson. "Our collaboration with 'The Hitman' continues our inroads into some of the highest rating pay-per-view sports shows on air, and we're pulling no punches when it comes to any opportunity to get involved with UFC."
The UFC®'s first-ever event in Nashville was a nationally televised event that was beamed live from the Sommet Center on Spike TV at 9:00pm ET. Headlined by the distinctive styles of top-tier striker Kampmann and the submission specialist Condit, the two explosive welterweights were on a collision course that ended in the Octagon™ last night, with a fierce battle of Kampmann's world-class kickboxing versus Condit's exceptional ground game.
A triumphant Kampmann only had the edge against formidable foe Condit when it came down to the wire, taking a split decision to award the main fight of the night to the 'Great Dane'.
Kampmann, a former Thai boxing champion, won his first four bouts in the Octagon™ as a middleweight, and after dropping down to welterweight, the 6'0", 170lbs competitor from Denmark has continued his string of success, with last night's win improving his win-loss record to 15-2.
UFC® is now entering its sixteenth year of operation as a professional mixed martial arts organization. Currently seen on television in over 100 countries and territories in 17 different languages, UFC® is the largest pay-per-view content provider, and according to its official website "is the fastest growing sports organization in history."
With UFC® fighter Kampmann in its corner, UltimateBet, the home of 11-time World Series of Poker bracelet winner Phil Hellmuth, continues to team with champion competitors. Watch for the leading online poker site to create more headlines and industry buzz when they ramp up their presence at the upcoming UFC®97 event in Montreal on April 18.
Ultimate Bet is one of the most respected poker sites online and is endorsed by professionals like Annie Duke and Phil Hellmuth. The site offers Texas Hold'em, Omaha, Omaha 8/b, 7 Card Stud, 7 Card Stud 8/b, Crazy Pineapple, Crazy Pineapple 8/b, Triple Draw, Royal Hold'em. Table limits range from penny games up to $300-600.