When it comes to visiting online casinos, it can often seem as though there are 101 different options out there for punters to play. This is certainly the case if you're a fan of online and

There are occasions when we here at ReadyBetGo want to bring you interesting facts about the gambling industry When something catches our eye, we will publish it for your enjoyment.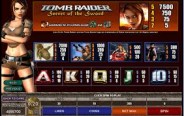 video slots, so it's important to know what you're looking for when selecting the site where you want to do your betting. With so many different slots on the internet, it always helps to see a game attached to a familiar name or brand, whether it is related to your favourite sport, television show or film.
Slots have just become popular in the casinos of Las Vegas, and online slots are now a massive part of the casino experience. There is no shortage of popular franchises that have made the move into video slots, and some of the most iconic blockbuster movies in recent years are represented at online casinos across the web. That's definitely the case for sites such as Pokies.com Scratchies, which plays host to some of Hollywood's best loved names in their portfolio. Here are some of the best of them.
Tomb Raider II: Secret of the Sword
If you are a fan of Lara Croft and the Tomb Raider series, this is the slot for you. Our heroine and her sidekick, Alistair, are searching for an ancient sword, with fragments scattered throughout the game. This five reel, 30 payline slot is an easy-to-play game and sees you try and find the missing pieces of the sword, with a number of exciting bonuses and features to help you on your way to a sizeable return on your investment.
Jurassic Park
Any game featuring Jeff Goldblum is going to be good, and Jurassic Park is as exciting a slot game as you'd expect from the franchise - without the danger of being eaten by a T-Rex while you're on the toilet! With 243 different ways to win, a number of features and bonuses, Jurassic Park is a great slot to play for those new to online casinos as well as those hardcore slots players.
Dark Knight Rises
Get in your Batmobile and set off for the crime-ridden streets of Gotham City in this dark but exciting slot game. Based on the 2012 blockbuster movie, The Dark Knight Rises features all your favourite characters from the movie in symbol form. They range from Bruce Wayne to Commissioner Gordon and Bane to Catwoman. With exclusive clips from the movie interspersed with the action, you're never in any danger of forgetting what game you're playing. With 243 ways to win, this five reel slot also includes a variety of features and bonuses to help you on your way.