Golden Touch Blackjack Revolution!
by Frank Scoblete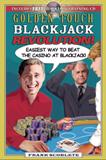 the revolutionary and incredibly simple, yet powerful, Speed Count and the matching Optimum Basic Strategy (OBS). In minutes you can learn Speed Count and be able to play blackjack with an edge over the house. This new book includes a FREE CD so you can practice the Speed Count and OBS at home.

Blackjack for Blood
by Bryce Carlson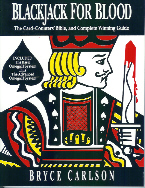 NOW BACK IN PRINT and REVISED. One of the strengths of this work is that he doesn't just tell you why you should double on certain soft totals, it SHOWS you why in simple, solid terms. Although the basics are covered, Carlson explains how and why card counting works. The book includes the entire method for the Omega II system, one of the easier level-two counts to learn and use. Other chapters cover Camouflage; Gambler's Ruin, Cheating.