Blackjack: Take The Money and Run
by Henry Tamburin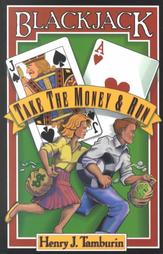 Henry Tamburin's most popular book on blackjack contains three levels of playing strategies. 1) For the beginner, a non-counting strategy that will give you a slight edge in some blackjack games. 2) The intermediate level strategy contains an introduction to card counting. 3) The advanced level playing strategy is a powerful system that will give the blackjack player up to a 1.5% edge over the casinos. The book also contains advice on which blackjack games give you the most profit potential, the risks involved in playing blackjack, how to play without fear of getting barred, and money management discipline.

Playing Blackjack as a Business
by Lawrence Revere

One of the finest works on the subject, like fine wine, this essential book improves with age. It carved out a fast pace for the counter's revolution in blackjack. With an assist in computer work by the brilliant Julian Braun, this controversial Las Vegas operator compiled an instruction book on blackjack based on 25 years in the gambling business.