Easy to use and comprehensive, StickySoft's Blackjack 6-7-8 software works well for the beginner and very well for the experienced blackjack player. There are 21 Wizards to guide you step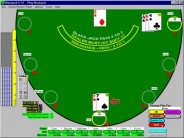 Basic blackjack play screen from Blackjack 6-7-8
by step through such functions as setting the parameters for playing blackjack, the basics for novices and beginners, selecting a playing strategy for each player, running a simulation, and developing a playing strategy.
Blackjack 6-7-8 lets you set up a table with 1 to 7 players and any number of decks and penetration level. You can even play unusual rules, such as Double Exposure, Multi-Action, Over/Under, and various bonuses. There are cocktail waitress and slot machine distractions if you choose to test your ability to concentrate on the count, a module which shows the value of blackjack coupons and comps, and over 1,000 hints (which can be turned off) for any level player.
Many statistics are available in the Play Blackjack window, including Win Rate, the Count, and bankroll for each player. A bankroll can be chosen for each player and bankroll statistics include initial bankroll, current bankroll, and gain as a % of bankroll. Each player can have a different Playing Strategy, Betting Strategy, and Set Of Point Count Values this can be used for simulations in addition to playing in Play Blackjack.
A unique feature of the software is that it also comes with instructional videos. The videos demonstrate how to buy-in and how to signal the playing decisions at a table in a casino and illustrate card counting and how to place a bet for the dealer.
In the Card Counting training module, players can practice adding the values of the cards; and the range of counts on the Counting tab has been expanded to -42 to 41 from -10 to 10.
Other new features include photo-realistic looking discards, a larger card size, the ability to store your play and simulation data, and much more – including some helpful counter camouflage tips and Don Schlesinger's famous SCORE analysis. You can also store up to 1,000,000 different tables each for playing strategy, betting strategy, and sets of point count values.
According to the FAQ section of the software's website, using basic strategy while playing with a 6-deck shoe, the house edge is only .4%. However, in addition to using Basic Strategy, the software can teach you a fairly simple method to count cards to determine when to raise your bet. Then you would have an edge over the house of about 1%. But remember, the house edge or player edge is the result you get in the "long run." Based on simulations run in the software (you can also run these simulations), after playing 500 hours, you would have a 95% chance of being ahead, given a 1% edge over the house. Therefore, the long run is 500 hours of play.