Smarter Bet Guide to Blackjack
by Basil Nestor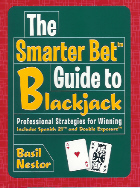 Strategy is the key to success at the blackjack table; that's a mathematical fact, and you can count on these expert, easy-to-learn tactics to make you a victor. Here's the deal: everything begins with the basic rules, and they're laid out on these pages with smart little "factoid" tips. Go through blackjack economics, which explain why cards fall the way they do, and what makes a good (and a sucker) bet. Easy-to-follow tables suggest strategies for splitting pairs and soft hands and provide dozens of other statistics and card probabilities.
Free Blackjack Strategy Cards!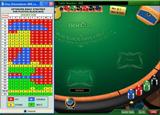 LuckyAce Casino is the best bet for practicing blackjack basic strategy without stress and distractions. The game comes in both free play and real money modes and you can play up to two hands on your own table. The rules are favorable and with a house edge of only 0.49%, better than most casinos. They also provide a blackjack tutorial and an accurate strategy card that you can consult while you play. Highly recommended.

BJ Math
BJ Math is a site dedicated to the exploration of mathematics in conjunction with blackjack. The editors have done a great job collecting all of the important articles relating to blackjack probability and card counting strategies. The site also provides a 'Novice Corner' for those new to the concepts of blackjack mathematics. There is a forum for deeper discussions.
Keep in mind that
basic strategy
doesn't absolutely predict the outcome of a hand; it simply tells us the most profitable choice if that hand were to be played repeatedly forever. So in some

Basil Nestor is the author of the new Playboy Complete Guide to Casino Gambling. This wonderful book teaches players how to avoid sucker bets and win more when playing gambling games. He is also the author of The Smarter Bet Guide series for video poker, slots, craps, and many other books about gambling. Basil's website is www.smarterbet.com
situations you will lose when following basic strategy, but that doesn't mean the strategy has failed, it just means that the casino was lucky. Nobody owns the edge, and nobody owns luck either.
Also, the casino has an overall advantage in win frequency, but that advantage is offset by the extra payouts you receive for
naturals
,
doubling
, and
splitting
. What this means is that you generally lose a bit more than you win for a while, and then you jump ahead (or vice versa).
The casino usually wins 48% of blackjack hands on average, players win 43%, and 9% of hands are a push. A player's 5% disadvantage in win frequency is offset by payouts for naturals, and extra profit on splits and doubles. That's why it's important for you to double and split according to basic strategy and avoid
taking insurance
.
And finally, there is standard deviation to consider. The fact that you're playing with a near-zero edge doesn't guarantee that you and the casino will be absolutely even at the end of a session. On the contrary, it's highly likely that one side will be ahead of the other. After all, it is a game. But basic strategy gives both sides a nearly equal chance of being ahead.
Casinos don't like that, so some of them are constantly jiggering the rules to push basic-strategy players out of the fuzz and solidly onto the negative side. Meanwhile, other casinos are improving the rules to attract players who are turned off by the jiggered game across the street. As a result, all blackjack games are not identical. You have to shop around to find the most favorable rules.
In Summary - Blackjack Essentials
Blackjack is all about the number 21. Each player competes with the dealer to build a hand that has a point total closer to 21 but not over that amount.
When playing blackjack in a casino, you must give the dealer clear visual cues (tapping the table for a hit, or holding up your hand for a stand) rather than saying "hit" or "stand."
Blackjack basic strategy
reduces the casino's edge to less than one percent, but this reduction occurs only if you use the entire strategy. You must double down and split as recommended to get the full positive effect.
You should stand on all hands of 19 and higher when playing standard basic strategy, and you should hit all hands of 8 or less (except for pairs in some situations). A hand of A,A or 8,8 should
always
be split. A hand of 10,10 or 5,5 should
never
be split.