Gambling Teachers Ebook
by Gayle Mitchell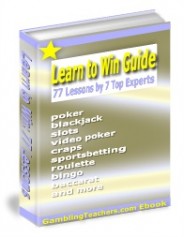 Learn to Win Guide: 77 Lessons by 7 Top Experts. 10 Program Chapters: 1) Poker-7 Games. 2) Blackjack. 3) Craps 4) Video Poker 5) Slots 6) Bingo & Keno. 7) Roulette. 8) Other Games: Baccarat & European Games. 9) Sports Betting and 10) Gambling Strategies-Tips from the GT team. Chapters 11) Online Gambling and 12) Gambling Teachers Blog, Lesson 77 completes the Guide. PDF format.


How to Detect Casino Cheating at Blackjack
by Bill Zender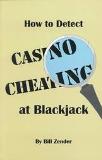 The information here has never been made available to the general public in the past. Till now, it's been the domain of casino surveillance experts...and the cheats themselves, Players who have suspected casino (and private game) cheating might be surprised by some of the revelations here. Casino execs will find a wealth of information on how their dealers might do them in. Dozens of methods discussed, including the Short Deck; Cooler Decks; Selective Up Card; Switching the Hole Card.