More Book Reviews
Best Selling Poker Books of 2014
How did the new books compare to the old classics? Well, we will let the data speak for itself. Take a look at the list of the best selling poker books of 2014.
Deal Me In and Eat Professional Poker Players Alive Reviewed
There isn't a clear path by which people become professional poker players. There aren't any good courses at the local vo-tech for a person to study. The road to becoming a poker pro is inevitably difficult, circuitous, and filled with setbacks. Deal Me In is a book describing the course by which twenty top poker players became professionals.
Poker Winners Are Different
There is a big difference between what's typical human behavior and what is called for to play poker at a high level. There aren't a lot of people for whom maximizing their expectation in poker games comes naturally. Poker Winners Are Different by Alan Schoonmaker examines this conundrum.

Blackbelt in Blackjack, Revised
by Arnold Snyder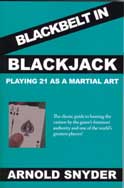 Arnold Snyder is one of blackjack's legends. This book, now back in print and revised,has become underground gambling classic. This is blackjack as a martial art, targeted for serious and professional players looking to win real money at the game. Snyder reveals tips and tricks used by the pros-shuffle tracking, team play, multiple deck camouflage techniques so that the casino can't detect that the player is using winning techniques, and much more. 21 powerful chapters include a complete course on beating blackjack: the devastating red 7 count, the hi-lo count, the zen count, the true count, and so much more.
Arnold Snyder has been one of the most prominent voices in the Blackjack world in recent years. Through his quarterly publication, Blackjack Forum, he has helped keep the Blackjack playing public informed

Nick Christenson is widely regarded as one of the best gambling book reviewers publishing today. He is a contributor for Poker Player magazine, and has published in Full-Tilt and Gambling Times. He is also the editor of the very funny 'Casino Death Watch,' which chronicles the comings and goings of casinos in Las Vegas. He is an avid poker and blackjack player. Nick's website is www.jetcafe.org/~npc/ of the latest trends in the game. In the spirit of keeping things up to date, Snyder has updated Blackbelt in Blackjack to reflect the conditions that the Blackjack card counter is likely to face in today's casino.
The book is divided into three parts, plus an appendix. The first section, "Earning Your White Belt", covers the basics. The reader learns the background to card counting, the most basic mechanics of playing Blackjack in a casino, basic strategy, the Red Seven count system, bankroll requirements, and reading table conditions. The basic stuff is obligatory, and Snyder dispenses with it quickly. The Red Seven is a reasonable count, and an easy one to pick up, but, frankly, the KO count system by Vancura and Fuchs is better and more complete, so I wouldn't recommend actually learning it. Snyder's bankroll requirements are sound, and his understanding of the importance of table conditions is solid. One of Snyder's greatest virtues as a Blackjack writer is his honesty. He never claims that making money by playing Blackjack is easy, and his honest approach shines throughout this section, and the entire book.
Section two, "Earning Your Green Belt", gets into the meat of the book. Two serious counting systems, the Hi-Lo Lite and Zen counts, are discussed thoroughly. I'm fond of the Hi-Lo Lite, it maximizes power while minimizing the effort required. The Zen Count is more powerful, but I really can't recommend using it. As Snyder acknowledges, it's a compromise between simple and complex, ace neutral and ace weighted. It's an interesting intellectual exercise, but I think one's better off going with one extreme or another. If this isn't clear, I recommend waiting before studying this particular count system. This section also covers true count conversion, betting strategies, not getting noticed, and the dangers of camouflage betting. All of these sections are important and written well.
The third section, perhaps predictably by now, is titled "Earning Your Black Belt". The chapters in this section cover how to survive as a big bettor, team play, shuffle tracking, and special rules. These sections are good, although those interested in shuffle tracking should read the Blackjack Forum series on this topic, and the special rules chapter rather sketchy.
The appendix includes basic strategy tables (good ones), the complete Hi-Lo Lite and Zen strategies, and a bibliography and list of recommended reading. This information is very solid and very useful.
I'd probably be safe in presuming that every serious counter has already read Blackbelt in Blackjack. If not, get the second edition and read it. The first edition was good, the second is better. The information it contains is important. The real question is, should someone who already has the first edition buy the second? The answer is, it depends. Some of this book is new, significantly the Hi-Lo Lite strategy. If this is of interest, definitely pick up the second edition. Also, material has generally been brought up to date. If one hasn't been keeping current with Blackjack Forum or any other source of Blackjack information, the second edition might be rather valuable in this respect. However, if one doesn't use any of the counting systems discussed, and has been keeping current with Blackjack trends over the last decade, one can probably afford to not update their first edition copies.