More Book Reviews
Best Selling Poker Books of 2014
How did the new books compare to the old classics? Well, we will let the data speak for itself. Take a look at the list of the best selling poker books of 2014.
Deal Me In and Eat Professional Poker Players Alive Reviewed
There isn't a clear path by which people become professional poker players. There aren't any good courses at the local vo-tech for a person to study. The road to becoming a poker pro is inevitably difficult, circuitous, and filled with setbacks. Deal Me In is a book describing the course by which twenty top poker players became professionals.
Poker Winners Are Different
There is a big difference between what's typical human behavior and what is called for to play poker at a high level. There aren't a lot of people for whom maximizing their expectation in poker games comes naturally. Poker Winners Are Different by Alan Schoonmaker examines this conundrum.

Blackjack for Blood
by Bryce Carlson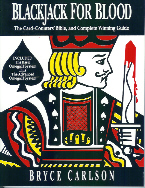 NOW BACK IN PRINT and REVISED. One of the strengths of this work is that he doesn't just tell you why you should double on certain soft totals, it SHOWS you why in simple, solid terms. Although the basics are covered, Carlson explains how and why card counting works. The book includes the entire method for the Omega II system, one of the easier level-two counts to learn and use. Other chapters cover Camouflage; Gambler's Ruin, Cheating.

Golden Touch Blackjack
In Henry Tamburin and Frank Scoblete's two-day class, you will learn a method of advantage-play that is simple, extremely easy-to-apply, yet powerful enough to get a real, verifiable edge over the casinos at blackjack! The course comes with a new Basic Blackjack Strategy that enhances your edge with our method! Plus, entrance and exit strategies, money management, bankroll development and bet-sizing techniques to make you an Advantage-Player over the house.
In Blackjack for Blood, we have yet another example of the all-in-one reference for the aspiring card counter. The heart of the book is the description of the Omega II card counting system and

Nick Christenson is widely regarded as one of the best gambling book reviewers publishing today. He is a contributor for Poker Player magazine, and has published in Full-Tilt and Gambling Times. He is also the editor of the very funny 'Casino Death Watch,' which chronicles the comings and goings of casinos in Las Vegas. He is an avid poker and blackjack player. Nick's website is www.jetcafe.org/~npc/ its application in the casino environment.
The Introduction of the book describes "The Good Life" that the professional Blackjack player might enjoy. While the author is honest about how much hard work it might take to prosper like this, I believe even the promise of wealth, junkets, and the high life should be more carefully moderated. Few, if any, readers will ever attain this level of prosperity from the game of Blackjack. While the promise of wealth and success may be attractive to readers (and to publishers), I'm always uncomfortable with such claims.
The next two chapters are the obligatory explanation of the game of 21 and an introduction to why this remarkable game can be beaten. The explanation of the game is sufficient, and the explanation of the reasons why is better than average.
Chapter four covers basic strategy. It's amazing to me that despite the fact that every author agrees that there is only one correct basic strategy, no two books I can recall have the same charts. To be fair, the strategy can change depending upon the number of decks and what rules are assumed and the differences are very minor. The tables in Blackjack for Blood are in line with what most experts agree is the correct strategy.
Chapters five and seven cover the Basic and Advanced Omega II strategy. The Omega II is a powerful, balanced, ace neutralized, level two counting system. The author claims that a level two system (or, more specifically, this one in particular) is an optimum compromise between the power of a multilevel system and the simplicity of a level one system. In my opinion, an aspiring card counter should always start with either a level one count or an ace minus level one or two count. Great first count systems, in my opinion, are the Hi-Lo, Hi-Opt I, KO, and maybe Zen systems. I believe someone should know what they're in for before they take on anything more complex.
The Omega II's betting correlation without an ace side count is a mere 0.92, its playing efficiency is an astounding 0.67. This is the best betting correlation of any level two count system of which I am aware. Once you add a side count of aces, the betting correlation rises to a fantastic 0.99. Though complicated, the Omega II with an ace side count is one of, if not the, strongest counting system available. It is an excellent choice for either the true professional or the mathophile.
One of my criticisms of card counting books in general is that they all claim to be the optimum balance between complexity and strength. This book is guitly of this as well. Personally, I'd prefer more honest appraisals of a count system's strengths and weaknesses. For example, if I were playing against four to eight decks, I wouldn't recommend anyone bother to learn anything more complicated than Wong's Hi-Lo. Playing correlation is unimportant, betting correlation is high, and it's simple to use. However, if I were playing against single deck games where even moderate betting spreads were discouraged, I can't think of a better system than the Advanced Omega II, although if I were starting out, I might pick the Hi Opt I.
The book also covers casino comportment: betting spreads, camouflage, cheating, tells, shuffle tracking, etc. in several chapters. In my opinion, these sections are too brief to be truly effective. One can't cover anything meaningful in the realm of shuffle tracking, for example, in a page. It seems like the author is content to provide superficial coverage of each issue. While this is better than nothing, a deeper understanding of these subjects would be helpful.
The last chapter is a 20 page advertisement for the Omega II Blackjack Machine, a set of computer programs the author has written for the Apple II or Macintosh computers to help learn this system. At the time of this writing, this information is moot.
In general, this is a good description of a very powerful, though by no means simple, card counting system. There are several ways this book could be made better, including a single chart of the Advanced playing strategy, as one finds in the Wong or Revere books. Also, I'd like to have seen more detail on how to avoid detection and such, but there are plenty of other good books to cover these topics. Serious counters, especially those looking to move up from a level one system to a more sophisticated one should definitely look into this book, although I wouldn't recommend it for someone just starting out. Look at one of the following instead: The World's Greatest Blackjack Book, Knock-Out Blackjack, or Blackjack Secrets.