More Book Reviews
Best Selling Poker Books of 2014
How did the new books compare to the old classics? Well, we will let the data speak for itself. Take a look at the list of the best selling poker books of 2014.
Deal Me In and Eat Professional Poker Players Alive Reviewed
There isn't a clear path by which people become professional poker players. There aren't any good courses at the local vo-tech for a person to study. The road to becoming a poker pro is inevitably difficult, circuitous, and filled with setbacks. Deal Me In is a book describing the course by which twenty top poker players became professionals.
Poker Winners Are Different
There is a big difference between what's typical human behavior and what is called for to play poker at a high level. There aren't a lot of people for whom maximizing their expectation in poker games comes naturally. Poker Winners Are Different by Alan Schoonmaker examines this conundrum.

World's Greatest Blackjack Book
by Lance Humble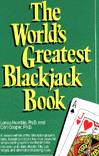 An excellent book for those moving up from beginner status, offers the effective Hi-Opt I betting system, tips on picking the right dealers, which is not only a very good counting system but is also a jumping off point for more advanced counts such as the Hi-Opt II. The book also details ways to detect cheating.
There are several good "complete system" blackjack card counting books available, each espousing a different, but similar system. The World's Greatest Blackjack Book by Humble and Cooper

Nick Christenson is widely regarded as one of the best gambling book reviewers publishing today. He is a contributor for Poker Player magazine, and has published in Full-Tilt and Gambling Times. He is also the editor of the very funny 'Casino Death Watch,' which chronicles the comings and goings of casinos in Las Vegas. He is an avid poker and blackjack player. Nick's website is www.jetcafe.org/~npc/ is one of these.
Like most books of this type, it begins with a general description of what blackjack is and why it can be beaten by a card counter. At this point in most books, the author launches right in to the basic strategy. In The World's Greatest Blackjack Book, the authors first discuss choosing the casino, interacting with the dealer and usually advanced topics like reading the dealer, how to talk to the pit boss, and when to make a quick exit.
After the basic strategy discussion, which is on track with what other authors recommend, they introduce the Hi-Opt 1 counting system. The Hi-Opt 1 is a level one count system which treats the Ace as a neutral card. While this generally reduces the correlation for betting strategy, the playing strategy correlation is exceptionally high, especially for a level one system (for a complete analysis of the relative strengths of various systems see Peter Griffin's superb Theory of Blackjack). This makes the Hi-Opt 1 a great count system to use against single deck games, where betting strategy changes are more important than in shoe games. When you add a side count of aces, the Hi-Opt 1 performs very well.
After basic and advanced Hi-Opt 1 play, the authors discuss playing "private" blackjack games, that is, those spread outside of a sanctioned casino. This is the only place where I've seen this material covered, and it's covered well. The rest of this book is devoted to additional tips, choosing games, playing multiple hands, getting on junkets, developing your act, etc.. Overall, this is as comprehensive a book on blackjack as exists on the market today. Others are comparable, but none much more so.
The book is not without its flaws. First, the authors are far more paranoid about dealer cheating than I think is justifiable. Even at the time the book was being developed, I don't think that cheating was nearly as prevalent as they make it out to be.
The second problem is with their claims of the Hi-Opt 1 system. While it, with a side count of aces, is a very good system, it is not as superior as they make it out to be. The system they espouse is arguable the best for single deck play, but for shoes, Wong's Hi-Lo (see Stanford Wong's Professional Blackjack or Blackjack Secrets for more information) is slightly more powerful and simpler, since one doesn't have to side count aces.
If one can overlook these faults, this is a winning system, and players will be well served by this book. In addition, for those players who have already adopted another system, this book has enough unique material in it to justify its modest price. I don't think it's the best book for rank beginners, as the little incorrect material can be misleading, but it is an excellent first book on counting if you're already familiar with the game. I recommend this book for all blackjack players.