Blackjack: Take The Money and Run
by Henry Tamburin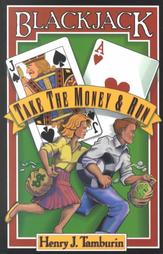 Henry Tamburin's most popular book on blackjack contains three levels of playing strategies. 1) For the beginner, a non-counting strategy that will give you a slight edge in some blackjack games. 2) The intermediate level strategy contains an introduction to card counting. 3) The advanced level playing strategy is a powerful system that will give the blackjack player up to a 1.5% edge over the casinos. The book also contains advice on which blackjack games give you the most profit potential, the risks involved in playing blackjack, how to play without fear of getting barred, and money management discipline.

Most Powerful Blackjack Manual
by Jay Moore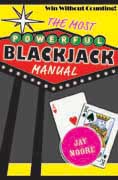 Any book can teach the rules and basic plays of blackjack, but only this one offers real insight into the mental game-particularly the winning combination of analytical thinking, self-discipline, and cool decision-making that will give you an immediate edge at the table. Using the author's proven 'Delayed and Up' method, as well as detailed analysis of more than 20,000 actual casino hands, you'll learn to recognize when you have the advantage over the dealer, determine the best ways to manage rules variations, and significantly increase your chances of winning.all without counting cards.