Sklansky Talks Blackjack
by David Sklanskly

The author of numerous books on gambling theory, Sklansky believes that the reason why most people don't excel at the beatable game of blackjack is because they think expert play is too hard. In this book, he does away with the charts and tables and breaks the game down into a technique he calls "talking" you through everything you need to truly "beat" this popular game.

Big Book of Blackjack
by Arnold Snyder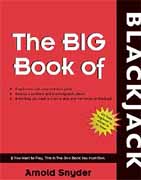 Snyder shows beginning and advanced players everything they need to know to beat the game of casino blackjack. From the rules of the game to advanced professional strategies, his guidance and advice runs the gamut of strategies needed to successfully beat the casino-with the odds. Snyder has been a professional player and the guru for serious players for more than 25 years. One of the most fascinating sections, rarely covered in any previous book in depth, is the history of the game and how it evolved, including profiles of some of the great players, some of them pioneers..