More Book Reviews
Best Selling Poker Books of 2014
How did the new books compare to the old classics? Well, we will let the data speak for itself. Take a look at the list of the best selling poker books of 2014.
Deal Me In and Eat Professional Poker Players Alive Reviewed
There isn't a clear path by which people become professional poker players. There aren't any good courses at the local vo-tech for a person to study. The road to becoming a poker pro is inevitably difficult, circuitous, and filled with setbacks. Deal Me In is a book describing the course by which twenty top poker players became professionals.
Poker Winners Are Different
There is a big difference between what's typical human behavior and what is called for to play poker at a high level. There aren't a lot of people for whom maximizing their expectation in poker games comes naturally. Poker Winners Are Different by Alan Schoonmaker examines this conundrum.

The Counting Game
by Alan Berg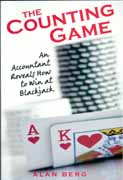 Blackjack has long fascinated--and defeated--players who think they have the system to win. Berg tells how he beat the odds at the blackjack tables again and again. He exposes the new tricks he discovered through his experiences and his strong relationship with statistics from his long career as a CPA. Unlike more technical gambling books, this one is written to aid players of all levels.
Every once in a while a book reviewer finds a selection of books related, yet unrelated. The question: how to present them to an audience of people interested in how to make money, save money or just

Howard Schwartz, the "librarian for gamblers," is the marketing director for Gambler's Book Club in Las Vegas, a position he has held since 1979. Author of hundreds of articles on gambling, his weekly book reviews appear in numerous publications throughout the gaming industry. Howard's website is www.gamblersbook.com "follow the money" (as they say in politics). Here are three books related to winning, betting and luck in their own way—you'll understand the connection quickly.
Beyond Coincidence (Amazing Stories of Coincidence and the Mystery Behind Them) by Martin Plimmer and Brian King (277 pages, paperbound, $15.95) explores the improbable and the amazing luck people have—in gambling, history, sports, politics and life—including jinxes and curses, if you believe in such. The authors document three instances where an individual won the state lottery not once, but twice! Subsequently they ask questions about why luck isn't more evenly distributed; what special qualities or mysterious powers are possessed by those lucky few upon who Dame Fortune invariably smiles and whether the inordinate amount of good fortune experienced by lottery winners is simple coincidence, or some mysterious birthright. Packed with details, a 12-page index of places, names and subjects, the work is written clearly and in fine entertaining style. It moves right along and should appeal to those who love to dream how Lady Luck may be courted, or who fantasize how to handle Dame Fortune should she come knocking on their door.
Alan Berg has written a fresh look at the game of 21 titled The Counting Game--An Accountant Reveals How to Win at Blackjack (207 pages, paper bound, $14.95). With a look at how the game is played in 2007 with casino rule "variants" and new playing conditions, the book teaches newcomers some fresh tricks, including how six and eight-deck shoes can be beaten and disguise techniques and how to obtain comps through intelligent play. Berg also tips you to places to play outside the United States and why; playing simultaneous hands; how to improve a bad game; some tips on playing in a tournament; some vital advice about paying taxes on winnings and keeping record of your play for the IRS. The book is written in a breezy, casual style, and should appeal to those who still hope to earn a living at the tables rather through a 9-to-5 job.
Inside the Ropes by Arthur Mercante (230 pages, paperbound, $15.95) has a lot to say about the sport of boxing and of the key role the referee plays in deciding the outcome. It's both a biography and history of boxing. Mercante is considered an elder statesman of the boxing world. For the person who bets on boxing, the book could be an eye-opener. What is the sign of a good referee? What makes a great fighter—or a champion? How does a referee keep "out of harm's way?" Along the way, you'll meet some of the greatest fighters in many divisions and learn through Mercante's words and memory what the greatest bouts were and why. It's about what a referee's life is like on a personal level, how the game has changed.