More Book Reviews
Best Selling Poker Books of 2014
How did the new books compare to the old classics? Well, we will let the data speak for itself. Take a look at the list of the best selling poker books of 2014.
Deal Me In and Eat Professional Poker Players Alive Reviewed
There isn't a clear path by which people become professional poker players. There aren't any good courses at the local vo-tech for a person to study. The road to becoming a poker pro is inevitably difficult, circuitous, and filled with setbacks. Deal Me In is a book describing the course by which twenty top poker players became professionals.
Poker Winners Are Different
There is a big difference between what's typical human behavior and what is called for to play poker at a high level. There aren't a lot of people for whom maximizing their expectation in poker games comes naturally. Poker Winners Are Different by Alan Schoonmaker examines this conundrum.

Ken Uston on Blackjack
by Ken Uston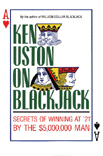 A legendary figure at the '21' tables in Nevada and Atlantic City casinos, Ken Uston and his 'team' won more than $5,000,000. He had the distinction of being barred from a number of casinos and used facial disguises to get into action. This book divulges Uston's priceless playing secrets.
Ken Uston is, without a doubt, one of the most successful and colorful Blackjack players of all time. His knowledge of the game, creativity in the cause of beating the casinos, and his clarity in writing

Nick Christenson is widely regarded as one of the best gambling book reviewers publishing today. He is a contributor for Poker Player magazine, and has published in Full-Tilt and Gambling Times. He is also the editor of the very funny 'Casino Death Watch,' which chronicles the comings and goings of casinos in Las Vegas. He is an avid poker and blackjack player. Nick's website is www.jetcafe.org/~npc/ about it are legendary, and for good reason. This book covers the period in his career from early 1984 until the middle of 1986. (Million Dollar Blackjack covers from 1974 until the end of 1979, One-Third of a Shoe covers the period at the beginning of 1979 when Atlantic City Casinos weren't allowed to bar card counters, Ken Uston's Newsletters on Blackjack cover from the beginning of 1979 through the end of 1981.)
This is the real-life adventure of a high stakes card counter at the tables of Las Vegas and in the courtrooms of Nevada. With his card counting team he does battle with the casinos trying to win money at the tables while he and his legal team do battle with the casinos in the court rooms for the right to play. The book jumps back and forth between these two battles chronologically giving us a sense of Uston's life during this period. We get to experience his victories and defeats in both arenas along with him.
The reader won't learn much about improving their Blackjack skills, although some of the discussions of team play and the card counter's "act" are useful. The book is mainly a diary of the events of the time, which were key in the history of card counting.
Blackjack players' opinions are split about whether Uston's court efforts helped or hurt card counting, but there's no dispute that he joined the battle with a zest and his recounting of it is both informative and enjoyable. His clear writing style again gives us an unclouded look at the his life and experiences at the time. Uston is one of the best writers the game of Blackjack has ever had. This book is another fine example of his work.