Roxy Palace Slots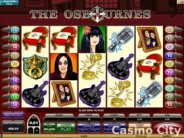 Roxy Palace has an astonishing variety of slot machines. At over 400 games, it should be enough to satisfy any slot fanatic. You can play as little as a penny per spin all the way up to $5 per line. Some of the outstanding video slot titles are The Dark Knight, The Osbournes and Thunderstruck. Popular classic slots include Captain Cash, Cosmic Cat, and Done Deal. With great variety, fantastic graphics, and innovative themes, Roxy Palace slots are a good thing.
Get21 Ltd. is making its grand entrance into the online gaming industry with the introduction of its innovative new online multiplayer Blackjack tournaments. Following the big success of televised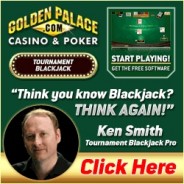 Golden Palace is sponsoring blackjack tournaments. Blackjack tournaments formats, Get21 offers the adrenaline-packed, fast-paced multiplayer Blackjack tournaments challenge. Get21 operates on a unique software platform developed over the course of two years by RNG Gaming Ltd., in which online casino giant Golden Palace is a partner.
The launch of Get21.com's community-based online multiplayer Blackjack tournaments, where up to 5 people can play against each other, follows the stunning worldwide success of online poker and the growing enthusiasm surrounding land-based Blackjack tournaments. Overwhelming demand has already begot several new multiplayer Blackjack services and has drawn a huge interest from national television networks such as CBS, which premiered the world's first weekly-televised Blackjack tournament on September 16th, 2006.
Get21.com's Blackjack community environment brings together like-minded Blackjack enthusiasts from around the world to join live tournaments. Get21 is launching its Blackjack tournament service only to non-U.S. players.
Idan Miller, previously senior VP of Marketing and sales at Zone4Play, will be leading activity at Get21 as their newly appointed CEO .Commenting on the launch, Miller said: "The recent advent of Blackjack tournaments marks the beginning of a new era in online gaming. The ability to go head-to-head with other players has been long anticipated by Blackjack fans. We aim at becoming the leading brand of the Blackjack tournaments world. The potential of Blackjack tournaments injects much positivism into the current industry climate and together with Golden Palace we look forward to its success."
Get21.com offers various online Blackjack games, from single table and multi-table 'Sit & Go' tournaments to special scheduled tournaments with huge jackpot prizes.
Mohawk Territory of Kahnawake
Canada
Golden Palace is one of the world's most popular online casinos. Known for its outrageous marketing stunts, the casino is also a first rate site that uses Playtech software. The sign-up bonus is generous and allows players to sample the wide variety of slots and games with very little risk.