More Book Reviews
Poker Winners Are Different
There is a big difference between what's typical human behavior and what is called for to play poker at a high level. There aren't a lot of people for whom maximizing their expectation in poker games comes naturally. Poker Winners Are Different by Alan Schoonmaker examines this conundrum.
Deal Me In and Eat Professional Poker Players Alive Reviewed
There isn't a clear path by which people become professional poker players. There aren't any good courses at the local vo-tech for a person to study. The road to becoming a poker pro is inevitably difficult, circuitous, and filled with setbacks. Deal Me In is a book describing the course by which twenty top poker players became professionals.
Fear and Loathing in Las Vegas Review
Fear and Loathing in Las Vegas is widely considered to be the pinnacle of Hunter S. Thompson's writing. The book successfully combines widely disparate genres, at the same time a narrative trip report, vibrant fiction, and incisive social commentary. Thompson captures the spirit of place and time as perfectly as has Twain, Fitzgerald, Steinbeck, or any other American author.

Las Vegas Advisor
Published since 1983, the Las Vegas Advisor is the recommended source to find the best deals the city has to offer. Each month the Advisor scours Las Vegas for restaurant, room, show bargains and more. There are also reviews about what's going on around town and strategy on how to play at the casinos. The Advisor is part of a yearly subscription that also includes the Pocketbook of Values (with coupons worth over $3,000), access to member forums, and discounts at the LVA store.

Las Vegas Advisor
Whether you are looking for bargains, need to make a hotel or show reservation, or want to read the best strategy for blackjack and other casino games, the LVA is a good choice. The site also has a membership available which provides over $3,000 in casino coupons.
Are you going to Las Vegas and would like to get the best deals you can? Are you planning a trip in the future and want to know all that's available? The trick to getting the best deals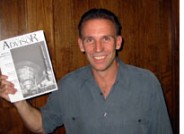 Anthony Curtis, editor of the Las Vegas Advisor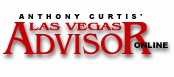 and having the most fun in Las Vegas is to have someone scout out the scene before you get there. That's what Anthony Curtis has been doing for visitors to America's most exciting city since 1983.
Anthony Curtis is the editor of the Las Vegas Advisor and Huntington Press. With a website, newsletter, book and software store, and a coupon book, Curtis has the Las Vegas market wired. It's been rumored that he will go anywhere in Las Vegas to check out a bargain. A former middleweight wrestler at Duke and professional gambler, Curtis does much of his own research and often gets up at 4:30am to clip news columns and ads from the Vegas papers for his newsletter. He likes to keep a low profie as he samples the food and entertainment around town, but that's become more difficult over the years. Recognized as a powerful player in the city and also a very good gambler, Curtis now also counts on a team that can travel incognito to ferret out the bargains in the city. And bargains are what interest his readers.
Most LVA subscribers are from outside of Las Vegas and come to town a number of times per year. Many of them have Curtis's Las Vegas Advisor in hand, usually turned to the "Top Ten Values" in town. Also available at his website,
www.lasvegasadvisor.com
, the Top Ten list shows ten of the best deals and bargains the city has to offer. In February 2006, the Advisor listed a $4.95 complete steak dinner at Ellis Island, a $.99 cent shrimp cocktail at Golden Gate, and a $2.49 ham and eggs breakfast at Arizona Charlie's Decatur. But it's not just low-end fare that Curtis reviews. Here's what he had to say about #6 on his list, the buffet at the Mirage $12.50-22.50:
Of a mind to find a better-value buffet than Cravings at the Mirage (#6), we tried a bunch of them last month. But upon comparison, plus monitoring continuing feedback that indicates diners want the best deal available on the top-end spreads, we're sticking with Cravings. The Mirage continues to hold the line in the face of inflating buffet prices, which keeps it tops on our smorgy list.
Curtis's website has about 150,000 unique visitors a month. Since the site is affiliated with the online reservations systems, visitors can book a hotel room, a golf tee time, a tour package, or buy show tickets, and again get some deals in the process.
The site also provides all of the details and benefits of a Las Vegas Advisor membership. You can purchase an online membership for $37 dollars per year. This is a great price considering it includes the monthly newsletter, access to the Advisor's forums and the Pocketbook of Values.
The Pocket Book of Values is a cornucopia of bargains that add up to more than $3,000 in savings. One of the most popular is a 50% off coupon for the Palms up to $50. Many people justify their subscription with that coupon alone, and there are more than 140 additional coupons, including dining, travel, show, and gambling coupons. The coupons are all negotiated specifically for LVA members and, in many cases, can't be found anywhere else. Here's a
list of the coupons
for 2007.
The subscription also includes access to daily deals posted on the website and the popular message forums. These are interactive communities where visitors read and ask questions, get answers, and share comments. With a powerful search function and more than 150,000 messages are archived, many people find that the answers to their questions are already there. A few of the forums are available to everyone, but most of the message forums require an LVA membership
For an extra $13 per year, Curtis offers to send the Las Vegas Advisor hard copies directly to you. He also offers a full money-back guarantee if you're dissatisfied.
All in all, the Las Vegas Advisor is a great bargain for people looking for bargains. It's also a superb resource for anyone looking for information about Las Vegas and all it has to offer. ReadyBetGo recommends you see for yourself at
www.lasvegasadvisor.com
.
Ideally, everyone could go to Las Vegas whenever they wanted, but obviously we can't all jump on a plane to visit Sin City at the drop of a hat. Luckily, the success of the gambling capital has permeated the online casino industry, and players can get that unique Vegas experience from anywhere online. Sites have popped up recreating the Las Vegas style in a digital gambling floor (check out this review of
Vegas Palms Casino)
. Players get hundreds of slots, video poker, and table games just like at a casino-resort in Vegas.