LAS VEGAS, Nevada -- Tropicana
Las Vegas
proudly announces its new executive team: assembled under the new ownership banner of Tropicana Las Vegas, Inc. and hand selected by Tropicana Chairman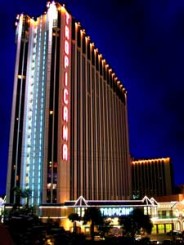 The Tropicana Las Vegas will be going under a $100 million renovation
and CEO Alex Yemenidjian.
"A critical aspect of creating the new Tropicana Las Vegas is attracting extraordinarily talented people," said Yemenidjian. "I feel very fortunate to have such a high performance team in place as I firmly believe that intellectual capital is the raw material from which success is made."
Joanne Beckett steps in as Vice President and General Counsel, overseeing all legal aspects of the company including risk management, security, surveillance and government relations. Ms. Beckett is a skilled attorney with more than 20 years experience in all aspects of hotel-casino law and litigation. She offers vast legal knowledge and expertise to the company.
Jerry Fox brings a wealth of financial knowledge and familiarity to his position as Vice President of Finance and Chief Financial Officer. Mr. Fox holds a Bachelor of Science Degree in Finance from Santa Clara University, a Master of Business Administration, and a Master of Science in Hotel Administration from the University of Nevada, Las Vegas. He has more than 20 years of finance and gaming experience.
Charged with creating and maintaining the highest level of hotel and hospitality standards is UNLV alumni and hotel/casino veteran Arik Knowles. Mr. Knowles serves as the Vice President of Hotel Operations. His responsibilities include overseeing all aspects of the hotel, guest services, public areas, facilities management, room reservations and revenue management. Mr. Knowles holds a Bachelor of Science degree in Hotel Administration and currently serves on the Board of Directors for the Nevada Hotel and Lodging Association.
Taking on the position of Vice President of Casino Operations, Don Wren oversees all aspects of table games and slot operations. He has a plethora of relevant experience with an impressive work history at properties including MGM Resorts, Primm Valley Casino Resorts, Excalibur and Harrah's Las Vegas. Wren brings a unique blend of casino operations, marketing and integration management experience to his position.
As Vice President of Food and Beverage, Jim Laughlin is responsible for all aspects of food and beverage operations, planning and development. Mr. Laughlin offers a distinctive blend of hands-on food and beverage experience as well as a background in marketing. His energetic approach to management will be well employed as Tropicana redesigns its dining and entertainment offerings. Laughlin holds a Bachelor of Arts degree in Communications from Indiana University.
Todd Gagnon brings both practical experience and an industry-specific educational background to his position as Vice President of Sales. Mr. Gagnon served as Director of Sales for Harrah's Entertainment eastern region, Director of Group Sales for Caesars Palace and Director of National Accounts for the Marriot Corporation. He holds a Bachelor of Science degree in Hotel, Restaurant and Travel Administration from the University of Massachusetts. Mr. Gagnon leads Tropicana's convention and group sales efforts.
Trish Gilbert spearheads creative direction and rebranding efforts for Tropicana Las Vegas in her newly appointed position of Vice President of Marketing. She will develop, implement and manage the property's overall image through a collaboration of advertising, brand marketing, customer relationship management and public relations efforts. Prior to joining the Tropicana team, Ms. Gilbert held executive positions with Fontainebleau Las Vegas, Resorts Atlantic City and Aladdin Resort and Casino. She has a Bachelor of Arts from Ursinus College and a Master of Arts from Rowan University.
Melissa Steinberg holds the title of Vice President of Player Development. Ms. Steinberg has more than 25 years of experience in the gaming industry, with an exceptional and thorough knowledge of both marketing and casino operations at all organizational levels. Throughout her extensive career she has created and implemented successful casino marketing and promotional programs in highly competitive markets including Las Vegas, Atlantic City, Ontario and the Bahamas.
Grammy award-winner Nancy Gregory dons the title of Vice President of Entertainment. Ms. Gregory leads all creative processes as related to entertainment as well as manages entertainment offerings property-wide. A prolific creator of live multi-media productions, she's designed major productions for Disney Paris, Warner Bros. World, Radio City Music Hall and Madison Square Garden. She holds a Master of Fine Arts in Music from the University of Cincinnati.
The Tropicana Human Resources Department is in the proficient hands of recently appointed Vice President of Human Resources Fred Harmon. Mr. Harmon has nearly two decades of human resources and casino industry experience. Previous employers include MGM Grand, Rio Suite Hotel-Casino, Aladdin Resort and Casino and most recently, Harmon Resources Consulting Firm, which aided in the successful opening of the Venetian Macau. In this position, Harmon is responsible for the development, implementation and oversight of the overall employee culture, employee development and training, recruitment, and employee and labor relations.
Longtime Las Vegan Richard Faircloth takes the helm as Vice President of Information Technology. Prior to joining the Tropicana team, Mr. Faircloth held executive positions at the MGM Grand, Golden Nugget and Five Star Solutions. In this position he is responsible for establishing short and long term information technology needs and direction, building and managing data centers, recruiting technical team players, providing appropriate application systems and all other facets of information technology.
The new management team comes together on the brink of a very exciting time for Tropicana Las Vegas; a planned $125 million renovation is slated to begin in late August, heralding a whole new era for Tropicana Las Vegas and the South Strip.
The property transformation includes the redesign of every hotel room, the casino and the pool area, among others. There will also be several new restaurants, bars, a new
poker
room and nightclub.
Tropicana Resort and Casino
3801 Las Vegas Boulevard, South
Las Vegas, NV 89109
Phone: (702) 739-2222
Toll Free Phone: (888) 826-TROP (8767)
Website: www.tropicanalv.com

The Tropicana Resort & Casino, located on the most popular corner of the Las Vegas Strip, is a first-class resort offering over 1,800 luxurious guestrooms and suites. The Tropicana is home to the legendary Paris-revue, "Folies Bergere," the longest-running production show in Las Vegas and "Xtreme Magic starring Dirk Arthur." The resort's amenities include eight fabulous restaurants, three swimming pools, a full service health spa and a 61,000 square foot casino.