LuckyAce Casino New Video Slots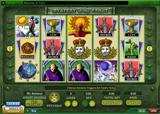 LuckyAce Casino has added some exciting video slots to their casino floor. The four themed nine-line slots all come with scatter pays and bonus rounds. The themes are Knights & Maidens, Mystery of Tarot, Freaky Fruit, and Globetrotter. The bonus rounds are varied, fun and profitable. You can set the machines to play any where from 5 cent up to $2.00 per line. Video slots are a welcome addition at LuckyAce Casino. In light of their publicly-traded status, LuckyAce Casino has decided to restrict US players from gambling at their site. All other players are welcome.
Do you respond to the idea of lucky sevens? Most people in America do. Well get ready for a paradigm shift, because
Casino-on-Net
wants you to get excited about lucky eights.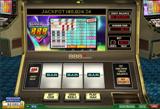 Super Thundering 888
Why? The answer lies to the east.
In China seven isn't a lucky number, in fact, it symbolizes abandoment. In day-to-day life in China, it is customary to regard even numbers as being more auspicious than odd numbers. The number two (Er), for example, usually suggests germination and harmony. At wedding celebrations, decorations are invariably setout in pairs: a pair of red candles, a pair of pillows, and couplets hung on two sides of the hall.
The number eight, 'Ba' in Chinese, also has a significant meaning. The word has a similar sound to 'Fa', which means to make a fortune. It is well-accepted that all businessmen favor this number very much.
Well, now its the slot players turn to get excited about the number eight, especially if its Super Thundering.
Random Logic
's Super Thundering 888
progressive slot
has thrown out the sevens and replaced them with eights. There are red eights, red and yellow eights and Super Thundering eights. Each of these numbers will bring you luck if you line them up on the payline, but three Super Thundering eights should make you yell BA BA BA because you've just won a Fa (fortune).
Random Logic
601-701 Europort
Gibraltar
888.com software was initially developed by Random Logic which was established in 1998 in Tel-Aviv, Israel to provide research and development and marketing services to 888.com. Random Logic is a wholly-owned subsidiary of 888.com plc.