Random Logic's gambling software for 888.com (Casino-on-Net) has been offered online since 1997. The site has been updated and redesigned over the years, but Random Logic has had a consistent vision since the beginning -- not too flashy or overwhelming. Let's take a look at what the software has to offer.
Random Logic's software is download only, but the system doesn't require you to download one game at a time, unlike some other casinos. This makes set-up considerably faster and you will be able to go play anywhere on the site without delay.
Games and Slots
The first thing you'll notice about Casino-on-Net is that the graphics and sounds aren't too busy and the general atmosphere is one of an up-scale casino. Second you'll see that Random Logic has created a strong porftolio of games to play at Casino-on-Net. All the major table games are covered including blackjack, craps, roulette, baccarat, Caribbean Poker, and Pai Gow Poker. The software also offers sixteen classic slots, four video slots, and seven video poker games. You won't find games with funny rules like Pontoon or Blackjack Switch since Casino-on-Net has positioned itself as a place for middle to high rollers.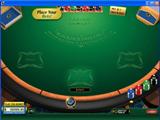 Casino-on-Net Blackjack Table
The tables are reminiscent of Monte Carlo or the upscale establishments of Las Vegas. The table has a highlight for you bets and your chips are stacked neatly to the side. The mechanics of playing are not complicated. The voice of the dealer is pleasant. All in all, Random Logic's design of blackjack is a soothing experience, except for the winning and losing.
There are a couple of other nice features that the designers included. If you make a bone-head play like hitting a 19, the software will step in and warn you against it. You can still do it if you're determined, but if you've fallen into a trance and pushed the wrong button, you won't lose your money unnecessarily. The site has a great tutorial, not only on the rules and how to play, but on basic strategy including a strategy card.
The slots that Random Logic designed for 888.com (Casino-on-Net) are conservative in presentation compared to other online casinos in the market. This was particularly true until early 2006, when video slots were first added. Now the slot floor includes sixteen classic reel spinners (with six of them progressive) and the four new video slots.

The classic slots are reminiscent of machines you'll find at your local casino with bars, sevens, and other familiar symbols. They also make sounds you've heard if you've played in local casinos. The denominations range from $.05 to $2.00. You can change the denomination on non-progressive slots at any time depending on your mood and your finances. Two of the slots have multi-line features; Wild Spider with 5 lines and Pyramid's Treasure with 3 lines.
The casino's progressive slots come in quarter, half-dollar and dollar machines. The biggest progressive, Millionaire Genie, has a reset of $225,000 and was hit for over $1.3 million in April of 2006. Other progressives include Super Thundering 888, Treasure Twirl, and Mega Gold and Green.
888.com (Casino-on-Net)'s new video slots are a welcome addition to slot players who enjoy the graphics and themes that are part of video slots appeal. The themes are Knights and Maidens, Mystery of Tarot, Freaky Fruit, and Globetrotter. The four themed nine-line slots all come with scatter pays and bonus rounds. The bonus rounds are varied, fun and profitable, but I won't spoil your fun be revealing all of the details. You can set the machines to play any where from 5 cents up to $2.00 per line.
I have one issue with the new video slots. The reels spin too slowly with the result that they can give you a headache. ReadyBetGo has let 888.com know about this issue, so we hope it will be fixed in the near future.
Video Poker
Random Logic has created a good selection of video poker for Casino-on-Net and offers single hand, multi-hand and progressive games. The single hand games are in denominations from $.25 to $5.00 and include
Jacks or Better
, Deuces Wild, Joker's Wild, Aces & Faces, and Bonus Poker. Here's a quick look at the payout percentages for these games based on their paytables.
Single Hand Video Poker Machines

Jacks or Better
98.25%
Deuces Wild
97.06%
Joker's Wild
96.38%
Aces & Faces
99.26%
Bonus Poker
96.87%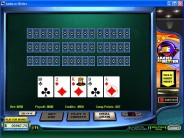 Casino-on-Net Multi-hand Video Poker
If you like multi-hand games, all of the same games are available in 5, 10, 25 and 50 hand versions, with denominations from $.01 to $1.00. If you continue to play and your selected denomination won't cover the bet, the machine automatically moves down to the next smallest denomination. The multi-hand games well laid out and easy to understand. Unlike some other casinos, the payback percentages are the same on the multi-hand games as they are on the single-hand versions.
The casino also has Royal Diamonds, a progressive video poker machine set to a $1.00 coin-in.
All video poker games at 888.com (Casino-on-Net) will alert you to winning hands, but they won't suggest strategy.
A rarity at most American casinos, the roulette tables at 888.com are single-zero wheels. This means the house edge is half as large as it would be at the majority of casinos in Las Vegas; 2.63% versus 5.26%. Again you can play alone, with others, or you can reserve a table with your friends. The table has a classy feel and the betting is easy. The only thing odd to me is the direction of the layout with the wheel at the right of the screen. The table also has a past history meter to help those who don't believe in random number generators.
The minimum bet on the table is $1. The most you can bet on one spot is $200 and the most on the entire table is $500. If you are a VIP, you can double those amounts.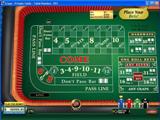 Casino-on-Net Craps
The craps game attempts to be realistic with the callers using some of the nicknames for rolls you would hear at a live craps table. Given that craps dealers are infamous for the things they come up with, it's not surprising that the choices here are obvious like boxcars (12), Little Joe (4) and yoleven (11). But I'd never heard of puppy paws (10). The dice have a nice roll and color to them and land in random places on the table.
The betting at craps is simple with the option to add odds bets behind the line and to come bets. The casino gives you up to 3 times odds. You can also buy points or lay against them.

Other Games
888.com also provides a number of other popular games including baccarat, keno, Caribbean Poker and Pai Gow Poker. The Caribbean Poker game is tied to a progressive jackpot that hits if you are lucky enough to be dealt a Royal Flush.
Random Logic's 888.com (Casino-on-Net) is a non-flashy, sophisticated online casino. It has an elegant design and game play is enjoyable. Game offerings are tilted more to table game play, but the company has made efforts to increase the slot machine types by adding video slots.
To play for free or for real money at 888.com (Casino-on-Net), click here.
Random Logic
601-701 Europort
Gibraltar
888.com software was initially developed by Random Logic which was established in 1998 in Tel-Aviv, Israel to provide research and development and marketing services to 888.com. Random Logic is a wholly-owned subsidiary of 888.com plc.