Casino-on-Net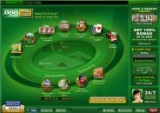 Casino-on-Net uses Random Logic software and is one of the best-established online casinos on the Internet. The site is currently offering up to a $200 bonus on all deposits, secure transactions, and a wide range of betting limits. Easy to navigate and fun to play, Casino-on-Net has earned its place as a ReadyBetGo! recommended online casino. Currently, Casino-on-Net does not accept US players.
You know you're entering
another world
when you click on to
Casino-on-Net
's Deep Ocean Pachislo slot. First of all there are Japanese characters in the middle of the paytable. I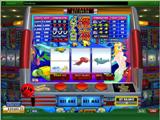 don't read Japanese, so I'm just assuming it says 'Deep Ocean Pachislo.' The other funny thing is there are three stop buttons below the reels. Does that mean you get to stop the symbols to pay you a jackpot? As the Radiohead song puts it so well, "nice dream."
Even though you may not really be able to influence the reels in your favor, the feeling that you may be is what makes Deep Ocean Pachislo entertaining and exciting. But it's not for the lazy player. After all, you'll need to press three buttons for every spin of the reels.
The theme of the game includes ocean dwellers like squid, dolphins, sea turtles and . . . topless mermaids? The designers also threw in symbols of red 7s and, for good measure, some blue 8s. If your curious, we explored the origin of lucky eights in our review of
Super Thundering 888
.
So plunk down your hook, stop your spinning reels and pull up some booty with Deep Ocean Pachislo. You can play this slot exclusively at
Casino-on-Net
.
Random Logic
601-701 Europort
Gibraltar
888.com software was initially developed by Random Logic which was established in 1998 in Tel-Aviv, Israel to provide research and development and marketing services to 888.com. Random Logic is a wholly-owned subsidiary of 888.com plc.