You would think that as the editor of this website and after working in the online gambling industry for over five years, I would have a lot of experience playing online. Well, you would be wrong. The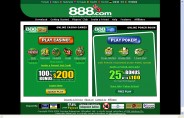 888.com Casino-on-Net
first time I gambled online was at the end of December of 2005.
Like many people, the whole idea of gambling online was a turn-off. First, it seemed too complicated. How was I going to pay? How honest and safe was it? And, given the fact that websites come and go, could they be trusted?
One thing I have learned working in this business for a number of years is that there are many casinos online that have been operating for a long time. In fact, some of them are so well-established that they are now publicly-traded companies. So when I decided I wanted to get first-hand experience at online gambling, I picked 888.com (Casino-on-Net) to try my luck.
888.com (Casino-on-Net) has been offering online gambling since 1997. To me that says there have been plenty of opportunities for people to vote with their feet, and walk away if the experience was bad. But 888.com is still here nine years later and on top of the online casino market, having gone public last year. That speaks a lot about the reputability and professionalism of the site. So with my choice made, I jumped in.

As I mentioned, paying for online gambling seemed daunting to me, but this fear was quickly dispelled after I downloaded the software and logged in. I was able to pay immediately using a bank check and the process was fairly painless. I just entered my account and routing number and within a few minutes my deposit was made. The minimum deposit was $50 dollars. I could also have used NETeller and a number of other deposit methods.
If you want to cash out you can either have your money credited to the deposit method you used or choose wire transfer or bank draft. The casino has certain minimums regarding cash-outs and the time it takes to get your money is determined by which process you used. Be forewarned, it takes at least 5-7 days to get your money unless you are a VIP member. If you change your mind about having your money sent, you have up to five days to cancel your withdrawal request.
One of the great things about becoming a player at an online casino for the first time is the sign-up bonus you receive. Each casino has its own rules for bonuses, but I found 888.com's rules to be fair and their bonus generous. The casino will match up to $200 on your first deposit if you are a new player. So if you deposit $100, the casino will add an additional $100 to your account. So what's the catch? Well, needless to say they don't just give you up to $200 dollars, they expect you to gamble with it. The general rule is that you will need to gamble 20 times your initial bonus. So let's do some quick math. You deposit $100, you receive a $100 bonus. You must wager at least $2,000 before you can cash in your bonus. The good news is that you can withdraw any amount you've deposited or won not including the bonus at any time. This is a good policy because you won't feel you've been tied to the casino to get your own money out.
There are some restrictions and different rules regarding bonuses depending on which country you are from and which deposit method you use, so be sure to read that section on bonus rules carefully at the site.
With money in your account you are ready to hit the casino. 888.com (Casino-on-Net) uses Random Logic software that doesn't require you to download one game at a time, unlike some other casinos. You will be able to go play anywhere on the site without delay. This is really one of the great benefits of online gambling. If you feel like playing craps for 5 minutes and then jumping to video poker, it's no problem; you're just a mouse-click away.
888.com has a full array of slots and games to play. The graphics and sounds aren't too busy and the general atmosphere is one of an up-scale casino. All the major table games are covered including blackjack, craps, roulette, baccarat, Caribbean Poker, and Pai Gow Poker. The casino also offers sixteen classic slots, four video slots, and seven video poker games. You won't find games with funny rules like Pontoon or Blackjack Switch. Casino-on-Net has positioned itself as a place for middle to high rollers, so the table upper limits are higher than you might find at other properties.
Blackjack
When you play blackjack at Casino-on-Net you need to make a few decisions. What betting limits do you want and do you want to play alone or with others? The limits range from $1 up to $1,000 per hand.
There's a great upside of playing blackjack at Casino-on-Net as all of your play goes toward your bonus requirements. This is quite different from other casinos where blackjack is excluded or is counted at a different rate. Given the fact that blackjack has some of the best odds in the house, this is a big plus for the first-time depositor.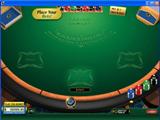 Casino-on-Net Blackjack Table
The tables are reminiscent of Monte Carlo or the upscale establishments of Las Vegas. The table has a highlight for you bets and your chips are stacked neatly to the side. The mechanics of playing are not complicated. The voice of the dealer is pleasant. All in all, blackjack here is a soothing experience, except for the winning and losing.
Although there is no point in card-counting as the decks are shuffled after each deal, the house plays by the rule that the dealer hits on all seventeens.
There are a couple of other nice features that are fairly standard for online casinos. If you make a bone-head play like hitting a 19, the software will step in and warn you against it. You can still do it if you're determined, but if you've fallen into a trance and pushed the wrong button, you won't lose your money unnecessarily. The site has a great tutorial, not only on the rules and how to play, but on blackjack basic strategy including a strategy card.
888.com (Casino-on-Net) slots are conservative in presentation compared to other online casinos in the market. This was particularly true until early 2006, when the casino added their first video slots. Now the slot floor includes sixteen classic reel spinners (with six of them progressive) and the four new video slots.
The classic slots are reminiscent of machines you'll find at your local casino with bars, sevens, and other familiar symbols. The classic slots also make sounds you've heard if you've played in local casinos. The denominations range from $.05 to $2.00. Another great feature of online slots is that you can change the denomination on non-progressive slots at any time depending on your mood and your finances. Two of the slots have multi-line features; Wild Spider with 5 lines and Pyramid's Treasure with 3 lines.
The casino's progressive slots come in quarter, half-dollar and dollar machines. The biggest progressive, Millionaire Genie, has a reset of $225,000 and was hit for over $1.3 million in April of 2006. Other progressives include Super Thundering 888, Treasure Twirl, and Mega Gold and Green.
888.com (Casino-on-Net)'s new video slots are a welcome addition to slot players who enjoy the graphics and themes that are part of video slots appeal. The themes are Knights and Maidens, Mystery of Tarot, Freaky Fruit, and Globetrotter. The four themed nine-line slots all come with scatter pays and bonus rounds. The bonus rounds are varied, fun and profitable, but I won't spoil your fun be revealing all of the details. You can set the machines to play any where from 5 cents up to $2.00 per line.
Video Poker
Casino-on-Net has a good selection of video poker and offers single hand, multi-hand and progressive games. The single hand games are in denominations from $.25 to $5.00 and include
Jacks or Better
, Deuces Wild, Joker's Wild, Aces & Faces, and Bonus Poker. Here's a quick look at the payout percentages for these games based on their paytables.
Single Hand Video Poker Machines

Jacks or Better
98.25%
Deuces Wild
97.06%
Joker's Wild
96.38%
Aces & Faces
99.26%
Bonus Poker
96.87%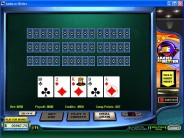 Casino-on-Net Multi-hand Video Poker
If you like multi-hand games, which I do, all of the same games are available in 5, 10, 25 and 50 hand versions, with denominations from $.01 to $1.00. If you continue to play and your selected denomination won't cover the bet, the machine automatically moves down to the next smallest denomination. I found the multi-hand games well laid out and easy to understand. Unlike some other casinos, the payback percentages are the same on the multi-hand games as they are on the single-hand versions.
The casino also has Royal Diamonds, a
progressive video poker
machine set to a $1.00 coin-in.
All video poker games at 888.com (Casino-on-Net) will alert you to winning hands, but they won't suggest strategy.
A rarity at most American casinos, the roulette tables at 888.com are single-zero wheels. This means the house edge is half as large as it would be at the majority of casinos in Las Vegas; 2.63% versus 5.26%. Again you can play alone, with others, or you can reserve a table with your friends. The table has a classy feel and the betting is easy. The only thing odd to me is the direction of the layout with the wheel at the right of the screen. The table also has a past history meter to help those who don't believe in random number generators.
The minimum bet on the table is $1. The most you can bet on one spot is $200 and the most on the entire table is $500. If you are a VIP, you can double those amounts.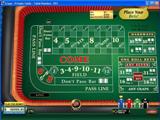 Casino-on-Net Craps
The craps game attempts to be realistic with the callers using some of the nicknames for rolls you would hear at a live craps table. Given that craps dealers are infamous for the things they come up with, it's not surprising that the choices here are obvious like boxcars (12), Little Joe (4) and yoleven (11). But I'd never heard of puppy paws (10). The dice have a nice roll and color to them and land in random places on the table.
The betting at craps is simple with the option to add odds bets behind the line and to come bets. The casino gives you up to 3 times odds. You can also buy points or lay against them.
Other Games
888.com also provides a number of other popular games including baccarat, keno, Caribbean Poker and Pai Gow Poker. The Caribbean Poker game is tied to a progressive jackpot that hits if you are lucky enough to be dealt a Royal Flush.
I found the casino's customer support to helpful and informative. Most of my questions had to do with the bonus and receiving payments.
I did have one problem which caused me some frustration. I made a second deposit and was prompted again for my bank account number. For this transaction, I left out one digit accidentally. The system allowed me to go on, only to inform me that my account had been frozen and that I would need to send identity information by mail to the company. I would recommend to 888.com developers that they warn their customers that the account numbers don't validate.
888.com (Casino-on-Net) is a non-flashy, sophisticated online casino. It has an elegant design and game play is enjoyable. Banking is relatively easy with many deposit and payment methods to choose from. Game offerings are tilted more to table game play, but the casino has made efforts to increase their slot machine types by adding video slots.
Given the longevity of casino and its status as a publicly-traded company, I felt safe playing at the casino. Best of all, my cash-out checks arrived as promised. There is a free play mode to preview the games and slots. Would I play there again? I already have.
To play for free or for real money at 888.com (Casino-on-Net), click here.

Casino-on-Net does not accept players from the US market. However citizens of the UK and many other European countries are accepted. 888Casino doesn't only offer their games to UK players. Canadian gamblers can also enjoy hundreds of casino games plus try out a bit of sportsbetting and poker for themselves. I have found that reading reviews tailored to where I live keeps me informed on the latest bonuses plus I relate to the content that much more.

888 Holdings plc
Suite 601-701
Europort
Gibraltar
888.com is the parent company of Casino-on-Net and Pacific Poker. Casino-on-Net is arguably the world's most popular online casino. The casino uses software designed by Random Logic and features high quality slots and games. The site offers a good bonus with reasonable withdrawl rules, secure transactions, and a wide range of betting limits. Easy to navigate and fun to play, Casino-on-Net has earned its place as a recommended online casino.