The Hulk is right behind Spiderman as the most memorable character created by Marvel Comics. So it comes as no surprise that WagerLogic would give the Incredible Hulk top billing when they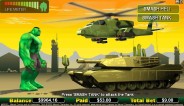 Hulk Video Slot Bonus Game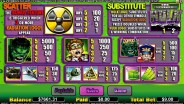 Hulk Paytable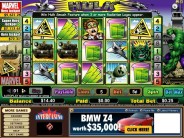 The Hulk video slot at Intercasino created their new Marvel video slots for Intercasino.
Created by Marvel writers Stan Lee and Jack Kirby, the Hulk first appeared in Incredible Hulk v1 #1 (May 1962). The Hulk was born Bruce Banner, the son of a nuclear scientist. Extremely jealous of his young son, Banner's father killed his wife and was declared criminally insane. Bruce, intelligent and withdrawn, was drawn to his father's profession and became an expert at nuclear weaponry. While testing the G-bomb (gamma bomb), Banner was irradiated with gamma rays. After the accident, Banner would transform when angered into the 7 foot, 1,000 pound Hulk. The early episodes in the Hulk series portrayed the Hulk as a dangerous force and General Thaddeus E. "Thunderbolt" Ross was often called upon to subdue the enraged giant.
The Hulk video slot is a trip into the military-industrial complex and the dangers of exposure to gamma rays. With tanks, jet fighters, radiation, gamma bombs and a special appearance of General Thunderbolt Ross, the Hulk slot gives you all of the symbols that resonate with this incredible story. The best paying symbol is the Hulk himself, paying 5,000 coins for five in a row. If you land the Hulk logo in this set, you'll get 10,000 coins.
The game features a bonus round which plays like a video game complete with life meter. The bonus game pits the Hulk against either a helicopter or a tank in order to find the hidden secret weapons laboratory. The game ends when either the laboratory is destroyed or the life meter runs out.
The slot is a nine-line multi-denomination game. It is also tied to three progressive jackpots – the Hero Jackpot (reset $2,000), The Super Hero Jackpot (reset $20,000), and the Marvel Super Hero Jackpot, which resets to $200,000. I got lucky and hit the Hero Jackpot for over $2,000 when I was playing. Of course it was free credits.
The colors and sounds of the game are vivid and exciting. All in all, the Hulk video slot is an energizing experience.
InterCasino is one of the most respected and innovative online casinos in the world, having hosted over 300 million games and paying out more than $4 billion in customer winnings to date. InterCasino's software is provided by industry leader CryptoLogic, Inc., one of the few software providers certified to strict standards similar to land-based gaming.
WagerLogic
Nimeli Court
41 - 49 Agiou Nicolaou Street
Block A 3rd Floor
Engomi, Nicosia 2408
Cyprus
WagerLogic Limited, a wholly-owned subsidiary of CryptoLogic, licenses gaming software to an internationally-recognized customer base. Premiere gaming companies including William Hill, The Ritz Club London, Intercasino and Betfair all use WagerLogic software.