WagerLogic is the gambling software behind some of the biggest names in the online gambling arena. Although its client list isn't as long as some of its competitors, WagerLogic casinos are well-known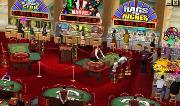 Intercasino uses WagerLogic as its casino software. and popular with online gamblers. The first casino to use the company's software was Intercasino which was launched in 1996. Since then other British gambling brand names have picked WagerLogic as their software provider including William Hill, Littlewoods Casino, and Ritz Club Online Casino.
WagerLogic's suite of games and slots is very impressive. The software offers all of the classic table games as well as some interesting variations. There are also over 70 different slot machines including the exclusively branded Marvel comic slots. Progressives are represented in blackjack, Caribbean Stud Poker, video poker and a number of slot machines.
WagerLogic also has created UK Style Fruit Machines, Asian games such as Pai Gow Poker, and Scratch Cards.
Accounts, Bonuses and Avatars
WagerLogic has separate accounts for real and play money. Unlike some other casinos, WagerLogic doesn't prompt you to go to "real money" mode every time you hit any kind of jackpot or win a hand at a table game. This is a welcome feature.
If you decide to go to "real money" play, you'll need to visit the cashier. At the casino where I tested the software, Intercasino, there were a number of options available to make a deposit including credit card, NETeller, Firepay, Citadel, electronic check, wire transfer and check. All of WagerLogic casinos are integrated with its parent company's ECash system that was developed by Cryptologic. The cashier system is straight-forward with tabs for deposit, withdrawal, statement, and my account.
After opening an account, a letter will be sent by mail containing your PIN and account number. You will need the PIN to cash out and the account number for customer support.
Of special interest is the "My Promotions" tab which is very useful and lets you know exactly where you stand in earning your bonus along with other promotions you may be eligible for. This is a great feature that gets rid of the guesswork usually involved with cashing out bonuses.
The first thing you'll notice about a WagerLogic casino is that some effort has been made to replicate a casino floor. Both Intercasino and Ritz Club allow you to choose your game not just from a menu, but by simply clicking on a game in the setting of a casino. Intercasino even has an escalator icon that will whisk you up to the second floor of the casino. There aren't any restaurants or showrooms; this is strictly gambling action.
WagerLogic also has an avatar function that allows you to choose a representative portrait of yourself. I'm not crazy about this feature because it's such a compromise on one's identity. I guess the developers figured we'd all feel more comfortable if we had some idea of who was next to us while we're at a multi-player table. The avatars smile if you win and frown when you loose, which is appropriate. The avatars can also be turned off.
Here are the specifics of what you'll find at most WagerLogic casinos. Keep in mind that software providers sell different packages to each online casino and while most of the games will be the same, some casinos purchase a package with their own branded games.
At most WagerLogic table games, you can choose from multi-hand, multi-player and private group playing modes, where you can chat with other players. The multi-player feature is not available in fun money mode however, nor is the multi-split blackjack table.
Blackjack – The graphic and user design of WagerLogic's blackjack table is not as slick and polished as others I've seen. Overall, the feel is a dimly lit and smoky blackjack table. I'm not saying this is bad, because it least it has atmosphere. The betting, dealing and decision buttons are all at the center of the table which is good for efficiency, but can lead to some expensive mistakes. The re-bet button is directly on top of the $25 chip, so if you're moving very fast, you may wind up betting $25 by mistake.
WagerLogic blackjack uses 8 decks and dealer must stand on all 17s. The dealer uses a hole card reader to determine if the house has a blackjack prior to settling players' hands. Other rules are:
After each round, used cards are returned to the deck and the deck is shuffled.
The player may double on any two cards.
The player may double after splitting.
The player may not re-split a hand.
The house edge under these rules is 0.49%. WagerLogic also offers a multi-split version of blackjack with a higher minimum wager ($5 versus $2) and a house edge of 0.44%.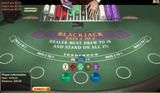 WagerLogic Blackjack
Single-Deck Blackjack – WagerLogic has a single-deck blackjack table with very favorable rules, even though the cards are reshuffled after each hand. The difference between it and the regular blackjack game is that the dealer must hit a soft 17. The resulting house edge for this game is a very low 0.07% and is the recommended game to play.
Blackjack Progressive – WagerLogic also features a blackjack table with a progressive jackpot based on the cards you are dealt. If you like jackpot games, it might be worth a try, but remember the progressive has to be over $200,000 to make it even close to being a good bet.
Pontoon – This game is offered at a few online casinos including those using WagerLogic software. The rules are provided with the game, but be forewarned, basic blackjack strategy is not applicable in this case. The house edge on this game is not bad for the player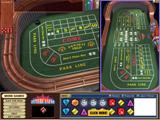 WagerLogic Craps
WagerLogic craps is modeled after the physical craps games you'll find in casinos across the world. This even includes the unique feature that allows the player to shoot the dice with a realistic action using the mouse. All standard bets are available including place bets, but buy and lay bets aren't allowed. The player may take up to 2 times line odds on the pass, don't pass and come and don't come bets.
There are a few other features that make craps at WagerLogic's casinos a good experience. There's a summary of each bet won or lost is displayed in a ticker above the table. When you have a lot of bets in action, this can be very helpful. There's also a history of rolls. The dealer calls out the numbers, but the calling is straight-forward without any craps slang. The house edge is 0.60% on the pass and come and 0.46% on the don't pass and don't come.
WagerLogic roulette comes in three versions, American Roulette, European Roulette, and European VIP Roulette. The rules are generally favorable to the player compared to physical casinos in the United States.
American Roulette has two zeros, but returns ½ of all even money bets if the ball lands on zero. This equates to a house edge of 2.63% on even money bets and 5.26% on straight up bets. European Roulette has one zero with a house edge of 2.63% on all bets. Finally, the best deal of all is European VIP Roulette which has one zero and the half-back rule (en prison) with a resultant 1.35% on even money bets and 2.63% on all other bets.
All versions include a history of numbers hit. The graphics and sounds are good, although the ball sound is a bit weak.
Baccarat
The baccarat table offers the standard rules, rake and odds for the game. The look and feel of the table is excellent and the player controls are intuitive. WagerLogic also has a mini-baccarat game.
Caribbean Stud Poker
Caribbean Stud Poker is entertaining but has a house edge of over 5.22%. WagerLogic's version features a bonus progressive game with a top bet of $1. If you are considering the side bet for the progressive, keep in mind that the meter would need to reach nearly $220,000 for the odds to be even.
Let it Ride
The game has a house edge of about 3.5%. There is also a side bet which has an edge of 13.8%, certainly not the worst for this type of bet, but still something you'll want to avoid.
Pai Gow Poker
The dealer is always the banker, resulting in a house edge of 2.9%. There is no house way button (the house's best guess on how the hand should be played).
Three Card Poker
WagerLogic's version of Three Card Poker follows full-pay rules making it competitive for versions of this game on the Internet. The house edge is 2.3% on the Pair Plus bet and 3.4% on the Ante bet.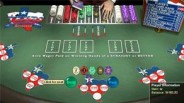 WagerLogic Texas Hold'em Bonus Poker
Texas Hold'em Bonus Poker
WagerLogic has recently introduced Texas Hold'em Bonus Poker, a house-banked version of Texas Hold'em where the player competes heads up with the dealer. The betting includes an ante, a flop, turn and river bet. There is also a bonus bet on the first two cards. Overall, the game simulates Texas Hold'em without the bluffing. There is no "dealer does not qualify" scenario, so all hands are playable. According to Elliot Frome, who has done some preliminary analysis, players should only fold about 11% of the time. This means you should fold if you are dealt suited 2,3 or 2,4 or off suited 2-3 thru 2-8 and off suited 3-4 thru 3-8. Otherwise, stay in the game. The Wizard of Odds calculates this game to be at about 0.535% house edge. The side bet is not recommended, with a house edge of 8.5%.
Other table games include Red Dog, Casino War, Solitaire, Super Fun 21, and Punto Banco.
Slots and Video Poker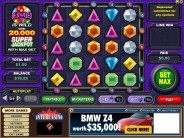 Bejeweled Video Slot
WagerLogic is one of the more prolific and innovative online slot manufacturers. The current software, which includes the new Bonus Pack 9, features 74 classic and video slots, including a number of progressive slots. Slots come in a wide variety including classic slots (18 titles), classic video slots (6 titles), Marvel Slots (6 titles including the Hulk, X-Men, Blade, and Daredevil), 9 Line Slots (19 titles), 20 Line Slots (14 titles), Rapid Fire Slots (9 titles, which all include the 'Rapid Fire' progressive), and two of the more innovative slots on the market, Bejeweled and Sweet Thing.
WagerLogic's progressive slots are very popular and have paid out some huge jackpots in the past. The biggest progressive is usually Millionaires Club, which as of this review has a jackpot at over $3 million. Other popular progressives are Rags to Riches, Triple Olives and Shoot-o-Rama.
All in all, the slot product at WagerLogic is very impressive, with a tremendous amount of variety.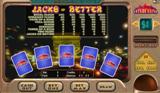 WagerLogic Video Poker
WagerLogic also has a lot to offer video poker players. The current line-up includes 10s or Better, Jacks or Better, Double Bonus, Deuces Wild, Joker Poker and a progressive video poker game Super Jackpot which comes in $1 and $.25 versions. Unlike other software packages, WagerLogic gives you the option to play all of these game types in either single-hand, three-hand, five-hand or ten-hand version. Another refreshing aspect of their video poker games is that there is no punishment as far as payback goes for playing multi-hand machines. The pay table is the same for single, three, five or ten hand play.
Here are the
paybacks
on WagerLogic's video poker products:
| | |
| --- | --- |
| Jacks or Better | 98.25% |
| 10s or Better | 97.96% |
| Deuces Wild | 97.97% |
| Joker Poker | 97.95% |
| All American Video Poker | 98.11% |
| Double Bonus | 99.10% |
WagerLogic also has a $.25 and $1 progressive video poker machine called Super Jackpot. This is a 8/5 machine with a return of 97.3% without the progressive. If the machine has a progressive jackpot of over $2,166.50, you've reached 100% return..
Summary
WagerLogic has done an outstanding job creating a varied and interesting set of games and slots for its customers. The software is not as slick or polished looking as some other packages, but what it lacks in looks it makes up in realism and choices. There's something familiar about the surroundings at WagerLogic sites even after the first visit. The slot machines are particularly recommended.
Editor's Note: Intercasino is one of WagerLogic's most popular casinos. The have a very generous sign-up bonus that renews monthly. To check out WagerLogic software and play at Intercasino, click here.
WagerLogic
Nimeli Court
41 - 49 Agiou Nicolaou Street
Block A 3rd Floor
Engomi, Nicosia 2408
Cyprus
WagerLogic Limited, a wholly-owned subsidiary of CryptoLogic, licenses gaming software to an internationally-recognized customer base. Premiere gaming companies including William Hill, The Ritz Club London, Intercasino and Betfair all use WagerLogic software.