Every once in a while a slot machine comes along that really captures your attention. Intercasino's Bejeweled is one of those slots. This hypnotic concoction combines elements of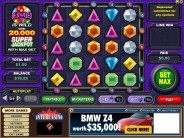 Bejeweled Video Slot at Intercasino.com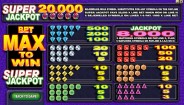 Bejeweled Payout Table the video game favorite Tetris with the lure of making big money with the right combination of symbols.
Bejeweled allows the player to select up to ten vertical or horizontal lines and wager from a grid of twenty-five symbols. The symbols are abstract jewels including emeralds, rubies, white diamonds and blue diamonds. Once the lines are selected, push the play button and the fun begins.
Jewels drop from the top of the grid and fill in a pattern. If you have three or more of any symbol in either a vertical or horizontal pattern your credit meter goes up, but the game isn't over. Those symbols are removed and all the other symbols fall to fill in the missing spaces. If these new patterns create more winning combinations, the process repeats and more jewels fall into place. Just when you think it's over, here come some more payouts.
The 'Bejeweled' symbol is wild and very profitable if you can manage to get five in row, paying out 20,000 of what ever denomination you are playing. You can play in any denomination from ten cents to $20 dollars. In order to play max coins, you'll need to wager a minimum of $1.00 at the $.10 level.
The play on the machine is quick and at a $1 minimum, if luck is against you, the money will go fast. Fortunately, there are a lot of small pays to help keep the credits coming back. I saw quite a few triple blue diamonds (100 credits) during my playing.
If you are looking for something different when you play slots, Bejeweled will fill the bill.

InterCasino is one of the most respected and innovative online casinos in the world, having hosted over 300 million games and paying out more than $4 billion in customer winnings to date. InterCasino's software is provided by industry leader CryptoLogic, Inc., one of the few software providers certified to strict standards similar to land-based gaming.
WagerLogic
Nimeli Court
41 - 49 Agiou Nicolaou Street
Block A 3rd Floor
Engomi, Nicosia 2408
Cyprus
WagerLogic Limited, a wholly-owned subsidiary of CryptoLogic, licenses gaming software to an internationally-recognized customer base. Premiere gaming companies including William Hill, The Ritz Club London, Intercasino and Betfair all use WagerLogic software.