Do you remember the last time you went to a carnival? There are three things to do at a carny; eat, play games and go on rides. You'll find two of those three themes when you play Shoot-o-Rama.
First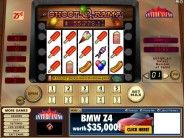 Shoot-o-Rama has a carnival theme.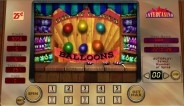 The Shoot-o-Rama Bonus Round there's the food. How about some hot dogs and ice cream cones, or maybe a Popsicle? And who can pass up the popcorn? If popcorn's your bag, you'll be as a happy as a Wal-Mart smiley face, because Shoot-o-Rama has a lot of popcorn. These popcorn bags are the key to the bonus round. If you line up five in a row on any of the five pay lines (with the correct coin-in), you'll be taken to the shooting gallery.
The bonus round is pretty simple deal. Six balloons are stuck on a wall. You throw a dart at one, and you win what's behind it. There aren't any zilches, so you'll always come away with some coin.
Shoot-o-Rama also has dart and balloon symbols. With five darts on any line you'll win the progressive jackpot.
One more interesting note about Shoot-o-Rama. While most slots require you to line up the symbols in a row, this game will pay on non-consecutive symbols. For instance, if you line up ice cream cones on reel 1, reel 3 and reel5, you'll still be paid for a 3 ice cream cone jackpot.
You can play Shoot-o-Rama at one of most reputable casinos on the web, Intercasino.
WagerLogic
Nimeli Court
41 - 49 Agiou Nicolaou Street
Block A 3rd Floor
Engomi, Nicosia 2408
Cyprus
WagerLogic Limited, a wholly-owned subsidiary of CryptoLogic, licenses gaming software to an internationally-recognized customer base. Premiere gaming companies including William Hill, The Ritz Club London, Intercasino and Betfair all use WagerLogic software.