Wagerlogic
's $1.00 Triple Olive
progressive slot
is a blast from the past. The Martini theme and the slant-top design invite memories of smoke-filled casinos, blinking lights, the sound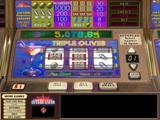 Triple Olive Dollar Progressive
of a lounge act blaring in the distance and a watered-down free drink warming up beside you. Those were the days of simple
slot machines
, not those fancy-pants story telling gizmos they have today. These were just slots whose reels spun around and sometimes you got paid.
Well, Triple Olives is a lot like that. It probably has a decent pay percentage; you just don't get paid frequently. Even mixed bars are not winners, and you need the same bar symbols to line up to win. Other symbols of interest are the gin bottles, the Martini glasses, the shakers and of course the olives.
There is one twist in this Martini. One olive on a payline pays 5, two olives pays 50 and three olives sets off the progressive jackpot. How the slot designers made it so the smallest and the largest payout come from the same symbol is a mystery to me, but hey, that's all part of the world of slots.