Are you looking for someone to hunt vampires with you? Are you carrying your cross, garlic clove and mirror at all times. If your idea of fun is stealing into crypts with a wooden stake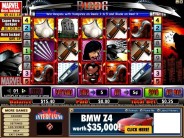 Marvel Comics' Blade Video Slot at Intercasino.com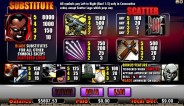 Blade Paytable in your hand, you should spend some time with Blade, slay some demons and maybe try to win some money at the same time.
According to his biography, Blade came into the world an orphan. His mother was bitten while in labor by the vampire Deacon Frost and died during childbirth. Blade was taken in and raised by his mother's friends. Determined to avenge her death, he fashioned himself into a vampire hunter even before he reached adulthood.
Blade is also a character in one of six Marvel-themed, multi-currency jackpot video slot games that were introduced last year by Intercasino and their software provider WagerLogic. The new games offer multi-stage, interactive bonus levels with three separate jackpots available to be won - the first multi-level jackpot games ever to be offered on the Internet.
So what's it like to play Blade? The look and feel is very much like the comic book with a spooky and dark symbol set including a red-eyed vampire, gravestones, crosses, silver nails, and for a more modern touch, a semi-automatic machine gun. There's also screaming girl, a whirling blade, a chemical in a test tube, and Blade's black car. Blade himself is the wild symbol, and he brings a snarling menace to the role.
The slot is a nine-line multi-denomination offering a top payout of 8000 credits. It's also tied to three progressive jackpots – the Hero Jackpot, The Super Hero Jackpot, and the big daddy – the Marvel Super Hero Jackpot, hovering at over $20,000 when I was playing the machine.
Blade has a bonus game that is triggered when the Vampire appears on both reels 1 & 5 with Blade anywhere on reel 3. Since vampire hunters like a hint of mystery, I won't reveal the details of this bonus – you'll need to earn your vampire hunter props.
The games sound effects are good with pipe organs, slashing blades and hammering nails. All set the tone for a nice night on the town.

InterCasino is one of the most respected and innovative online casinos in the world, having hosted over 300 million games and paying out more than $4 billion in customer winnings to date. InterCasino's software is provided by industry leader CryptoLogic, Inc., one of the few software providers certified to strict standards similar to land-based gaming.
WagerLogic
Nimeli Court
41 - 49 Agiou Nicolaou Street
Block A 3rd Floor
Engomi, Nicosia 2408
Cyprus
WagerLogic Limited, a wholly-owned subsidiary of CryptoLogic, licenses gaming software to an internationally-recognized customer base. Premiere gaming companies including William Hill, The Ritz Club London, Intercasino and Betfair all use WagerLogic software.